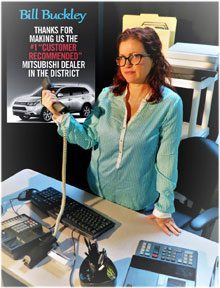 Have you ever been tempted to flee your own life? Becky Foster (Kelley Gray) is caught in middle age, middle management and in a middling marriage – with no prospects for change on the horizon. Then one night a socially inept and grief-struck millionaire stumbles into the car dealership where she works.
Becky is offered nothing short of a new life… and the audience is offered a chance to participate while riding shotgun down the hilarious road less traveled!
Coastal Stage Productions, the Lowcountry's top regionally traveling theatre company, will soon be introducing Beaufort County audiences to the comedy Becky's New Car written by Steven Dietz. Playwright Dietz says he was "…fascinated by the idea of someone living a secret double life and inspired by those odd little newspaper stories you hear about how after someone dies his family learns that he also had one or two other families out there, all unknown to each other." In 2008 Dietz decided to cleverly mold that idea for a story into a fun and interesting new audience interactive play.
Becky's New Car capitalizes on this method of playwriting and it proves refreshingly creative and new. Actor Kelley Gray has been directed to make no bones about driving through the theater's "fourth wall." In fact, the first word out of her character's mouth, in this must-see comedy is a "hello" to the audience. She quickly continues her jovial interaction as she asks an audience member to help with her leaky roof and later in the production she invites the audience into her off-spinning reality as she consults with them about an important decision in her personal life. She also assigns tasks: collate some of her papers, help her get dressed to go out — oh, and would anyone like a soda?
Playwright Steven Dietz sets his play in four primary locations that are the most important in Becky's world. There's the living room of the house Becky shares with her roofer husband of 28 years, Joe, and their son Chris. There's her office cubicle where she deals with customers by answering the phone each time with "Bill Buckley Lexus-Saturn-Nissan-Mitsubishi, Home of the Fifty-Thousand-Mile Smile." There's her car, the old one. And finally there's the terrace of the estate belonging to Walter Flood, the wealthy widower she meets late one night at the dealership when he comes to buy nine cars as gifts for his employees. All four venues are on stage at the same time and Becky has to race from one to the other. If Kelley Gray appears to be late getting to a scene, it's not the actress's fault — the director has planned as much.
Director Luke Cleveland says, "This is a delightful, life-affirming comedic play about the road not often taken. We see the soul of a woman being pulled in two directions, romantically and socially and the hilarious result of her decisions that will finally lead to happiness. I think it is one of Steven Dietz's best plays and it's been a real joy to work on this production. As these characters evolve, audience members will find themselves wondering what a woman really means, when she says that she wants a new car."
As it would turn out, the proverbial key to Becky's New Car is in fact a remark made by her late friend Rita to the effect that when a woman "says she wants a new car, she wants a new life." Becky, a woman in her late 40s, discovers what this means and decides that she desperately needs a new vehicle to escape from her life's doldrums. Becky's unexpected new life begins when her millionaire customer Walter mistakes her for a widow and she can't get the words out to set him straight. Becky soon befriends Walter and begins to figure out ways to spend time with him. Before she even realizes, things get complicated and spin out of control when her new life begins to collide and cross over into her old. All of this insanity leaves Becky making a series of unexpected and often times hilarious decisions.
Discover more about Becky and her secret double life as you fasten your seat belt and ride along with Becky. Hang on for the deadpan humor and U-turn plot twists as you meet the clever characters in this delightful production. The talented Lowcountry cast played by Donna Capps, Mark Erickson, Chandler Henry, Dan Herrin, Travis McKinley and Catie Mengel wonderfully portray the characters that join Becky in maneuvering her way down the twists & turns of life's highway!
Performance Dates: May 18 – 19 and 25 – 26 @ 8pm and May 20 & 27 @ 2pm – The Shed Event Venue, 809 Paris Avenue, Port Royal, SC.
Tickets: Reserved Seating: $25.00, General Admission: $22.00, Group Reserved Seating: $20.00. On sale Online: www.coastalstageproductions.com or Box-Office: 843-717-2175