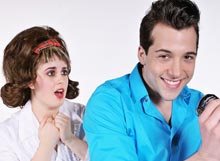 Big tunes and lots of dance in store at Hairspray!
Break out the Aqua Net — the glamour do is back! "Hairspray," Broadway's big musical comedy, will be rockin' the Arts Center this spring with the music and dances of the trend-setting '60s — and some very cool coifs.
Casey Colgan returns to Hilton Head Island April 27-May 29 (preview performances are April 27-28) to direct this new-millennium mega hit, winner of eight Tony Awards and the Laurence Olivier Award for Best New Musical. He also stars as Edna Turnblad, the protagonist's mom, in a role traditionally played by a man.
"It's an uplifting story with lots of catchy tunes," said Colgan, who has directed more than a dozen Arts Center musicals including "Les Miserables" and last spring's production of "Aida." "It'll make you want to get up and dance."
It's 1962 and the Mashed Potato is all the rage on "The Corny Collins Show," Baltimore's homegrown version of "American Bandstand." Pleasantly plump Tracy Turnblad (newcomer Lindsay Braverman), a 16-year-old with big dreams and even bigger hair, will do whatever it takes to claim a spot on the TV dance program and win the heart of teen idol Link Larkin (Vince Oddo).
Without ruffling so much as a hair of her 'do, she dances her way to stardom and into the arms of her heartthrob. But this dancing dynamo doesn't stop there. With the help of her gal pal Penny, she sets out to integrate television in Baltimore.
"It's a social commentary on discrimination in American society in the '60s," Colgan said. "The landmark moment in the show comes when everybody gets to dance together."
The show also stars Yvette Monique Clark ("Hello, Dolly!") as Motormouth Maybelle, Robert Anthony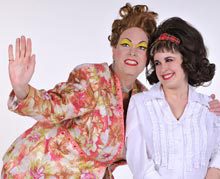 Jones ("Man of La Mancha") as Wilbur and Deonte Warren as Seaweed. The cast features a few familiar, local faces, including Tara Bianco, Daniel Derrer, Whitaker Gannon, Caroline Santorum, Skylar Stephens and Michael Weaver.
Based on John Waters' 1988 cult film of the same name, "Hairspray" opened on Broadway in 2002 and ran for more than 2,500 performances. Unlike the movie, the stage musical was written with an entirely original score.
Choreographing the show is Jill Gorrie, who appeared with Colgan in the Arts Center's first production in 1996 and most recently choreographed "Aida." For 10 years, she has been the dance captain and resident choreographer of the European tour of "Grease" and has cast and re-staged productions of the musical in Berlin; Frankfurt, Germany; Zurich, Switzerland; Istanbul, Turkey; Lebanon; and Austria.
"I'm moving forward 10 years into the '60s," she said, comparing the setting of "Hairspray" to "Grease." "In those days, black people danced very differently than whites. Their music was rooted in the blues."
Among the big numbers is "The Nicest Kids in Town," where the Corny Collins show dancers are introduced to the audience, and "You Can't Stop the Beat," the final scene where the white teens dance with the black teens.
To prepare for his role as Edna – his first role in an Arts Center production since "The Producers" – Colgan has drawn inspiration from his own mother, June Cleaver, Bea Arthur and Fran Dresher's mother in the TV show "The Nanny." "It will be a ton of work to direct and perform in 'Hairspray,'" Colgan said. "But I also get to stay on the island after the show opens and see friends and enjoy the weather and the beach."
Arts Center Costume Director Jennifer Correll faces a challenge designing dresses for Colgan as Edna.
"Edna's a big woman, too, so we're going to have to plump him up with padding," Correll said. "And, of course, we'll need to create bosoms."
The costumes also reflect the changing times. Fifties poodle skirts were out; shirtwaist dresses were in. And while the clothing wasn't flashy, the hairstyles were. In the story, Tracy wears a Jackie Kennedy bouffant teased to mountain-range proportions. Unwilling to tone it down, she gets into trouble at school and is sent to detention where she learns the new "downtown" dance moves from her African-American schoolmates.
"The hair is the most outrageous part of the costumes," Correll said. "And there's a lot of it. I think we have 75 wigs in the show."
Tickets for "Hairspray" are $55 for adults and $39 for kids, or save $5 with a preview ticket April 27-28. Audiences can also save $10 to the May 1 evening performance with a Heritage pass, badge or ticket stub. Group rates are available. For information or to purchase a ticket, visit www.artshhi.com or call 843-842-ARTS.
Pictured Above:
Tracy Turnblad (Lindsay Braverman) cheers on teen idol Link Larkin (Vince Oddo) in the Arts Center's production of "Hairspray." (Photography by Anne) 
Edna Turnblad (Casey Colgan) inspires her daughter Tracy (Lindsay Braverman) in a scene from the Arts Center's "Hairspray."