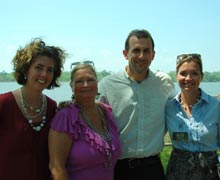 Entering its fifth decade, The Beaufort County Open Land Trust goes beyond preserving the view… and beyond Beaufort County.
Forty years ago a trio of Beaufort residents heard about a plan to develop the bluff at the bend of the river on Bay Street. In the boom market of the last decade this prime piece of real estate – arguably the most valuable in the city – would certainly have fetched millions. In 1971 John Trask, Jr., Marguerite Broz and Betty Waskiewicz pooled their resources and borrowed five grand to secure the view and create the first organization of its kind in the state. Over the years the Open Land Trust has been instrumental in the preservation of much more than just views.
Auldbrass Plantation, Lemon Island and the Bluffton Oyster Factory are all included in these efforts. 2010 was a year of major acquisitions, including The Green in Beaufort's historic Old Point. The property figures prominently in Pat Conroy's novel, The Great Santini and the film version features the actual location. Conroy was instrumental in this effort.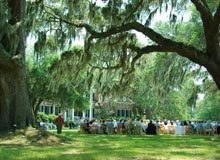 2011 marks the OTL's fourth decade of scenic and environmental preservation. The Trust recently held it's 40th annual luncheon at secluded Clarendon Plantation, where it holds more than 500 acres in easements. About 350 members gathered beneath the oaks – a far cry from that first meeting. As the crowd thinned out, I sat down on the bluffs of the Whale Branch with Executive Director, Anne Bluntzer, to talk about where the OTL has been, where it's going and how it operates.
Mark Shaffer: This gathering was a bit different from the first one 40 years ago.
Ann Bluntzer: I'm guessing the first meeting was John, Marguerite and Betty and it would have been about how to protect that one vista they thought was so crucial on Bay Street. That's grown into what we have today, almost 800 members and a gathering of about 350 people today.
MS: That first acquisition – the bluff on Bay Street – was so important. I think that we tend to take it for granted today, but the truth is that Beaufort probably wouldn't be the same if that property had been developed.
AB: Absolutely. We wouldn't have the views of the bridge and the marina and the whole marsh that looks over onto Lady's Island. It's the same at Bellamy Curve and it gets even more traffic. There were two homes there that blocked that view and that one is really 300 degrees. It's spectacular. We've definitely come a long way from our humble beginnings to the massive land conservation projects that we're doing today.
MS: How has the process of acquiring these properties evolved over the years as the market's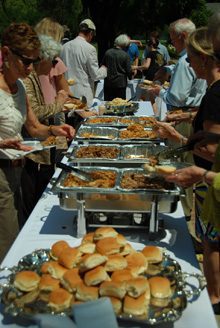 changed?
AB: The real estate market was peaking in '06 and '07 when we put The Green under contract. We were buying a one-acre parcel for a record price because of that market, but we knew it was crucial and we did it. In the early days when people weren't moving here I think that original purchase on Bay Street was $5,000. Now we raise a million dollars for a land acquisition. But the current market's forced people to be realistic again and there are some real opportunities to buy up some of this crucial land.
MS: We see the term "easement" associated with the Land Trust quite a bit. I'm not sure most people understand what that means.
AB: It's simply a landowner voluntarily restricting development rights on a property. If the city tells them they can build 100 homes on 50 acres the property owner essentially says, "Here, Land Trust, you hold the rights in perpetuity so this land will never be developed, regardless of who inherits it, who we sell it to – it will always be this way."
There's a very significant tax deduction they enjoy by signing over those rights and that creates a lot of incentive for some. Others have a strong conservation ethic and they know that development on a particular parcel of land would do harm and they just want it protected. This is the majority of the people we deal with, so it's a pretty fun job in that regard.
Of course, if the property is really environmentally sensitive we have public dollars to buy the conservation easement, to buy the development rights. The Land Trust has been designated by the Federal Government through nonprofit status to hold those easements in perpetuity. We have to visit the properties once a year to make sure the easement's being upheld.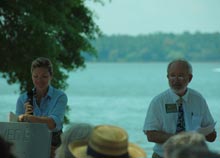 MS: The Land Trust currently protects over 14,000 acres. More than half of that was acquired during the last three years as Beekman Webb headed the board.
AB: He has a humble and subtle nature when it comes to these things and landowners appreciate that.  They don't feel threatened or feel that the government's trying to take their rights away. It's a personal strength of his.
MS: Entering its fifth decade the OLT has also moved into new territory, both literally and demographically.
AB: We're in six counties now and you're going to see a lot more of that. I think that the majority of Beaufort County landowners who would consider a conservation easement have already done so or are waiting to do so. The research we see on growth and development and the dangers associated with our natural ecosystem tell us that it all starts at the headwaters of these rivers. Our county is 50 percent water and the vast majority is coming from north of us. So, we'll spend a lot more time and effort working in Jasper, Hampton and Colleton counties. More and more easements will come from those areas.
MS: The bigger picture has to do with the ACE Basin as well as agriculture.
AB: We have easements in there and so do Lowcountry Open Land Trust and the Nature Conservancy. We all kind of partner together and work with landowners we know.  Also agriculture is incredibly important to us. We're seeing a lot of land out there growing produce that's all being shipped somewhere else. None of it's staying here. It never touches local plates. We're eating avocadoes from Chile and tomatoes from Central America. We think it's our duty as custodians of the land to call attention to this and make a statement by opening up some of that land for people to grow gardens on – if you don't have land, use ours.
MS: The St. Helena Farm Project is a big part of this phase and something we're excited abo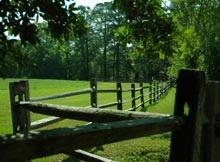 ut.
AB: It's a big part because we own that land and it's a larger property so we can do things on a larger scale than we can on the smaller urban plots. With that comes a lot more opportunity to create an actual farm and give people on the island a chance to plant individual beds.
MS: There's an obvious need to reach the younger generation and lay the groundwork for the next four decades.
AB: There is, and we've had a lot of younger members join this year, but it's hard for people with jobs and young children to drop what they're doing in the middle of the day. A lot of this work isn't conducive to their lifestyle. So we feel it's important to educate them about what we're doing and make them aware that we need their support. This is a major focus for us and a big challenge for us is to recruit that younger base. We have to in order for this organization to be sustainable. I think if we can continue to broaden our base and gather up all of the little pieces that make up the big picture we're capable of seeing some pretty amazing things to come.
Lowcountry Weekly is proud to partner with the OLT during its 40th year and beyond. Watch for updates in these pages, at www.lcweekly.com and on our Facebook page.
Check out the protected vistas, discover more about OLT projects like the St. Helena Farm and find out how you can get involved at www.openlandtrust.org