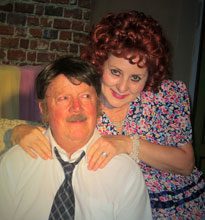 The third show of Coastal Stage Productions' sell out season, Moon Over Buffalo, will be onstage Aug 16 through Aug 25 at Coastal Stage @ AMVETS, 1831 Ribaut Rd., Port Royal, SC. 
Written by Ken Ludwig, author of Lend Me a Tenor, the madcap comedy centers on the lives of George and Charlotte Hay, fading theatrical stars of the 1950s. The Hays run a small repertory theater in Buffalo, New York. On the brink of a disastrous split-up due to George's dalliances with a young ingénue, they receive word that they might just have one last shot at stardom. Frank Capra is coming to town to see their matinee, and if he likes what he sees, he might cast them in his movie remake of The Scarlet Pimpernel. Unfortunately for the company, everything that could go wrong does; a surprise visit from their daughter's clueless fiancé and hilarious uncertainty about which play they're actually performing, caused by the company's stage manager, Charlotte's deaf and increasingly cranky mother, Ethel.
The recipient of two Tony Award nominations, critics consider Moon Over Buffalo a comedy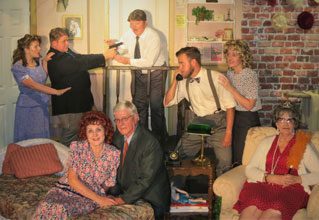 triumph. The New York Post calls it "stuffed with comic invention, running gags, and a superb sense of absurdity—an evening of farcical delight. This has to be one of the most hysterical things ever put on stage." 
The talented local cast features: Jayme Brinson, Dave Falls, Christine Grefe, Eric Johnson, Ken Kooyman, Kay Owen, GiGi Pingree and Gail Westerfield.
Performances are at 8 pm Fridays and Saturdays and 2 pm on Sundays. Added Saturday matinee on Aug 24 at 2pm. Tickets are $25 for reserved seating, $22 for group reserved seating and $27 at the door. For tickets or information CALL: 843-717-2175 or visit www.CoastalStage.com.