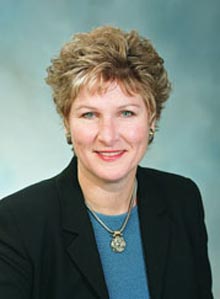 The University of South Carolina Beaufort is pleased to announce that political activist and communications strategist Ambassador Karen P. Hughes will deliver this year's Commencement address.
Karen Parfitt Hughes, Ambassador, political activist and communications strategist, was born in Paris, France, the daughter of the last U.S. Governor of the Panama Canal Zone. She earned a Bachelor of Arts in English and a Bachelor of Fine Arts in Journalism summa cum laude from Southern Methodist University, where she was elected to membership in Phi Beta Kappa.
Ms. Hughes began her career as a television news reporter with KXAS-TV, the NBC affiliate in Dallas-Fort Worth; subsequently she worked on numerous political issue and bond campaigns in Dallas.  Ms. Hughes joined the Reagan-Bush presidential campaign as Texas press coordinator in 1984. She held the post of Director of Media Relations for Halcyon Associates, a Dallas-based public relations firm, from 1987 until 1990. After working as a consultant and spokesperson for the Texas Republican party  in the late 1980's and early 1990's, she became Executive Director of the Texas Republican Party from 1992 until 1994.
Ms. Hughes directed communications for George W. Bush's successful 1994 and 1998 campaigns for governor.  She was appointed Director of Communications in the Texas Governor's office in 1995 and continued in that role until becoming President Bush's Communications Director in 2000. Ms. Hughes served as a counselor to the President from 2001-2002.
Southern Methodist University invited Ms. Hughes to speak at commencement in 2002 and honored her as an SMU Distinguished Alumna in 2003. In 2004, Ms. Hughes joined the Bush White House in Washington for the final stages of the 2004 presidential campaign; she served as a senior communications strategist and on the planning team for the Republican National Convention.
In 2005 President Bush nominated Ms. Hughes for the position of Undersecretary of State for Public Diplomacy with the rank of Ambassador. Hughes worked to transform public diplomacy, elevating it to a national security priority that is central to government actions and policies. Hughes defined this transformation as keynote speaker at the 2007 Public Relations Society of America's International Conference, where she spoke on  "Waging Peace—The New Paradigm for Public Diplomacy."
Ambassador Hughes conducted a "listening tour" of the Middle East in response to growing fears of anti-Americanism in 2005 that included an American geography teacher and Muslim American college student, inspiring young people to reach out to their peers across the world. She was instrumental in creating the United States-United Arab Emirates Partnership for Breast Cancer Awareness and Research to conduct breast cancer awareness campaigns and connect U.S. medical researchers, fundraisers, health activists and businesses to colleagues residing in the U.A.E.
After resigning as Undersecretary, Ambassador Hughes returned to Texas and assumed the position of Global Vice Chairman at Burson-Marsteller, a public relations firm in Austin. She is the author of "Ten Minutes from Normal", a memoir of her experiences working in the White House.
ABOUT USCB COMMENCEMENT 2011
The largest graduating class in USCB history, 272 students are eligible to participate in USCB's 7th baccalaureate commencement ceremony to be held at 6:00pm on Friday, April 29th in the Helen and Brantley Harvey Plaza on USCB's Hilton Head Gateway campus in Bluffton. USCB will be celebrating the 1000th graduate, along with many firsts: The first class of students to earn Bachelor of Science in Nursing degrees will be graduating, alongside the first group of Studio Art students earning Bachelor of Art degrees.  In addition, the first cohort of students from the Saturday Business Degree program will be receiving their bachelor degrees as well.  Ambassador Karen P. Hughes, Paula Bethea, and William Bethea, Jr. will receive University of South Carolina honorary degrees.  Harris Pastides, President of the University of South Carolina will preside.
For more information, please visit www.uscb.edu online or call the university's Office of Public Information at 843-208-8030.
Read more Local Color