Haldora featured at SOBA Gallery
 
Haldora is a contemporary artist whose love for nature and old world antiquities inspires her art from a raw, childlike vision to impressionism and abstract art.
"Art is an intuitive part of my life that feeds my soul," Haldora said. "Creating is my passion, it's in my art, my designs, and my vision. It floats in my mind 's inner world and dreams as it melts into my daily life."
"Myriad of Visual Expressions" will exhibit from August 7 through September 3 at The Society of Bluffton Artists gallery in Old Town Bluffton. An opening reception will take place from 5-7 p.m. August 10 at the gallery. These events are free and open to the public.
Haldora's lifetime spent exploring art visually filters into a creative lifestyle. Her visionary sense and passion to create manifests in an eclectic style across different mediums: Self-taught, she has explored various forms of artistic expression including fiber arts, fashion design, ceramics, sculpture, drawing, watercolor, acrylic, mixed media and oils. Her current focus is with oils and occasionally acrylics.
"Colors and textures inspire my visual sensitivities as I allow my intuition to guide me," she said. "I look for beauty in imperfections,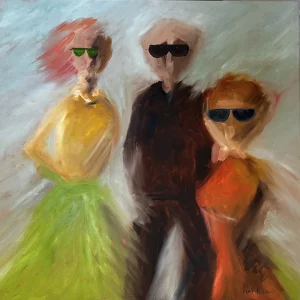 appreciate primitive culture and the simplicity of style."
Haldora's Icelandic and European heritage and family craftsmanship has also helped mold her vision, which inspired her attention to detail that set her standards high.
"My grandmother was an impeccable seamstress, my grandfather a precise woodworker, father an accomplished builder and mother a wildly imaginative painter," Haldora said.

In 2021, she semi-retired from a career in fashion design, retail, and merchandising and relocated from Rhinebeck, New York, to the Lowcountry of South Carolina. She still creates her signature, sought after "Orchard Shirt", minimalist and classic, with timeless sophistication, which is featured alongside her paintings on her website Haldora.com.
Haldora has taken open studio groups at the Woodstock School of Art in Woodstock, N.Y. and SOBA Gallery in Bluffton, S.C. She has studied with Dan Graziani, Mary Ann Browning Ford, Missy Gentile and others.
Haldora is the featured artist at SOBA Gallery for August 2023. She is an exhibiting member of the Art League of Hilton Head. She is also featured in the artisan gallery 100 Main owned by world-renowned decorator Bunny Williams in Falls Village, CT.
For more information, visit https://www.haldora.com.