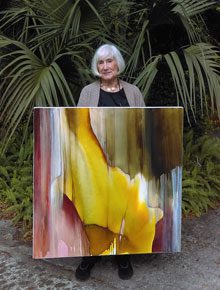 A Retrospective at the Charles Street Gallery
Joan Templer, the painter, educator and world-traveling resident of Beaufort, presents a selection of her work for this show at the Charles Street Gallery.
"Joan's Eye" is her book; broad is her perspective; full-bodied is her texture; innovative are her techniques; and open-minded is her approach. Her paintings sing with conscientiousness; which piece will be your pick to absorb and discuss?
From "Joan's Eye," available at the Charles Street Gallery: "Some works were selected because they demonstrate Joan's artistic reactions to her own discoveries; some illustrate a technique she has tried that in turn inspires her. Joan's constant exploration of new techniques and materials is almost as important as the creative results."
The public is invited to meet Joan and view her work at an opening reception Friday, February 19, from 5:30 – 8:30 pm. The show will run through Saturday, March 25th.
The Charles Street Gallery is an established source for Lowcountry and international art, presented within a carefully renovated house surrounded by a lush garden in the middle of Beaufort's historic district. It's located at 914 Charles Street in downtown Beaufort. For more information, call 843-521-9054 or visit www.thecharlesstreetgallery.com.