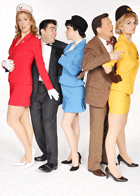 Bernard has it all: A great job, a beautiful Paris suite, good friends … three beautiful, international, flight-attendant fiancées. What could go wrong?
Oh, wait, everything.
"Boeing-Boeing," the non-stop comedy that made an extraordinary Broadway debut in 2008 and ended in January 2009, brings the laughs to the Arts Center of Coastal Carolina Feb. 2-21.
Kathleen Bateson, president and CEO of the Arts Center, said that it's a treat to get the rights to produce a hit show such as "Boeing-Boeing" so soon after finishing its Broadway run.
"The show is making its Southeastern premiere here, which is special for us," Bateson said. "This time last year – if you were lucky enough to get tickets – you could've seen this show on Broadway. Now you can save the expense of traveling to New York and see it in your backyard.
"It won two Tonys just in 2008. We're proud of that."
Bernard, a likable philanderer, finds himself in a pickle when his three international flight attendant fiancées — an American, a German and an Italian — have their schedules switched and arrive at his Paris pad on the same weekend. Aiding and abetting his antics is Robert, an old school pal who happens by just as the situation goes south, and his long-suffering housekeeper Bertha.
"It's hilarious," said Russell Treyz, director of such Arts Center hits as "Proposals," "Cat on a Hot Tin Roof" and "South Pacific." "It's the perfect male fantasy gone awry."
Playing the hapless bachelor is Jason O'Connell, who just finished an off-Broadway run of "Penny Penniworth," a spoof of Dickens' novels. When he's not working in theater, the New York actor performs stand-up comedy.
"Bernard prides himself on his organizational skills and how well he can manage his three romances," O'Connell said. "I get stressed out just thinking about it. It's so outrageous."
Playing his reluctant-but-enabling sidekick is Warren Kelly, last seen in the Arts Center's production of Neil Simon's "The Proposal."
"Robert is the kind of guy you would never expect to save the day," Kelly said. "But his love for his friend is greater than his fear for his life. When his buddy drops the ball, he turns into Action Jackson."
Relying on split-second timing, the terrified twosome whisk girls in an out of doors in a madcap attempt to keep the charade going.
"It's great fun watching other human beings get into trouble and try to get out of it," Hayden said. "Despite Bernard's best efforts, you know the pie is eventually going to hit him in the face."
Rounding out the female-centric cast are Prentiss Benjamin as Gretchen, Eleanor Handley as Gabriella, Lauren Pastorek as Gloria and Gabra Zackman as Berta.
"February is the perfect month for a show like this," Bateson said. "First, it's hilarious. Who doesn't want to laugh in February? Also, with Valentine's Day coming up, it's the perfect 'date night' show. You'll leave the theater with a smile."
Tickets are $39-$43 for adults and $27-$31 for kids. Tickets for a "Groundhog Day Sneak Preview" special on Feb. 2 are $24, and preview performances Feb. 3 and Feb. 4 are $39 for adults and $27 for kids.
For tickets, visit www.artshhi.com or call 843-842-ARTS.
The Arts Center of Coastal Carolina is a non-profit performing arts organization. In addition to a 349-seat, main-stage theater that hosts an annual theater and performing arts series, the organization oversees two art galleries and regional arts educational programs, as well as produces four community outreach festivals. The Arts Center received the 2006 Elizabeth O'Neill Verner Award for top arts organization in South Carolina.