Sandra Wenig at SoBA Gallery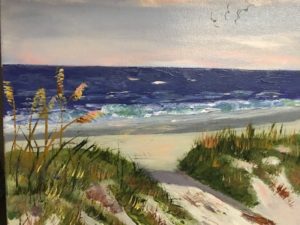 The serene seascape paintings of Sandra Wenig will be featured throughout October at the Society of Bluffton Artist's Gallery in Old Town Bluffton. The exhibit, "In and Around the Sea Shore," showcases the skilled palette knife techniques of the longtime SOBA member.
Wenig, a Boston native who attended Northeastern University and Boston University School of Art, has been with SOBA since 2004. She has studied under Florence Morse, Ted Jordan, Chris Groves, Mary Segars and Morton Solberg.
Wenig's exhibit will be featured from Oct. 4 through Oct. 31 at the SOBA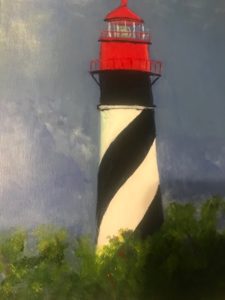 Gallery, located at 6 Church Street. The public is invited to an opening reception at the gallery at 3 p.m. Sunday, Oct. 10.
Working with both oil and acrylic paint, Wenig is inspired by images she sees during her travels by boat and RV. She enjoys painting landscapes, boats, birds and lighthouses.
SOBA is the heart of the flourishing art hub in Old Town Bluffton's historic district at the corner of Church and Calhoun streets. As a non-profit art organization, SOBA offers regular art classes, featured artist shows, exhibitions, scholarships, outreach programs and more. The gallery is open from 10 a.m.-5 p.m. Monday through Saturday, and 11 a.m.-3 p.m. on Sundays. Please visit www.sobagallery.com for a complete calendar of events and other information or call 843-757-6586.