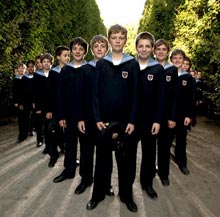 On Tuesday, October 24, the Hilton Head Choral Society (HHCS) has a special event planned with the SOUNDS OF CHILDREN! concert. This special event on October 24 is a concert performance from the world-renowned Vienna Boys Choir. The Vienna Boys Choir (VBC) is one of the most mesmerizing choirs in the world. The October 24 concert is at 7:30pm at the Holy Family Catholic Church.
A private, non-profit organization, the VBC finances itself largely through concerts, recordings and royalties. The VBC traces its roots to 1498, when Holy Roman Emperor Maximilian I moved his court and his court musicians to Vienna. HIstorians decided on that year as the foundation date of the Vienna Chapel Imperial and the choir.
Today, the VBC sings works from Mozart to Pharrell Williams. The choir has appeared on nearly every record label since the VBC began recording its music in the 1930s.
For ticket information, go to TICKETS at www.hiltonheadchoralsociety.org or call the society's box office at (843)-341-3818 to place an order. All seats are reserved. A limited number of tickets may be available for sale at the door.