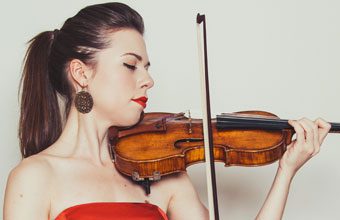 The 40th anniversary season of USCB Chamber Music continues with its second concert, on Sunday, December 15, 5:00pm, featuring music as old as 285 years and as young as yesterday (literally).
The concert begins with a work of great beauty and striking originality, Johann Sebastian Bach's Sonata for Viola da Gamba and Harpsichord, BWV 1029. This performance will showcase neither viola da gamba nor harpsichord because it has been arranged for violin, cello, and bass. In its original form the composition has the usual texture of Bach's instrumental sonatas—two upper parts supported by a bass—which comfortably translates into a verbatim trio arrangement with the cello playing the gamba part, violin the right hand of the harpsichord, bass the left hand. Appropriating another composer's work for one's own purposes was a longstanding and accepted 18th-century tradition. Bach would be honored rather than aggrieved to learn of the trio version.
Next up, violinist Tessa Lark and bassist Michael Thurber remain within the spirit of discovery and arrangement by playing several violin and bass duos. Selections will be announced from the stage. Their performance will undoubtedly be your only opportunity to hear violin/bass duets in the Lowcountry this season. Tessa and Michael have recently released a recording featuring Bach Two Part Inventions and up-to-the-minute, original works. In the hands of a great player a bass can be a surprisingly nimble instrument and Tessa will draw forth a rich, dark sound on her 1600 G.P. Maggini violin, rivaling the sonority of the bass.
The first half will close with Joaquín Turina's Piano Quartet in A Minor, Opus 67, written in 1931. Turina set about creating a Spanish national style of music. His goal was to integrate the style and flair of Andalusian and Gypsy music with conventional Western art-music forms. In this he was spectacularly successful. Turina draws on passionate and emotional intensity, driving rhythm, suave and seductive lyricism, and the familiarity of folksong-style tunes to create a vibrant and colorful montage of Spanish sights, sounds, and culture.
The concert concludes with one of the most beloved pieces in the repertoire, Schubert's Quintet in A Major, "Trout." The nickname comes from a song—"Die Forelle" (The Trout)—Schubert wrote at the age of 20. Finding the melody to be particularly charming, he uses it as the theme for a fourth- movement set of variations. Written in the afterglow of an especially delightful summer holiday, the quintet is brimming with good-natured friendship, bathed in sunshine and the spirit of youth, and perfectly suited to the intimate nature of chamber music fellowship. Written at the age of 22, like much of his music, it was not published until after the composer's early death.
One of the pleasures of re-meeting younger performers at USCB Chamber Music is to view new listings added to their professional resumes each succeeding visit. Such is the case with Tessa Lark, who first performed here as a gifted, up-and-coming artist and is now on the cusp of a major career.
Her concerts once spanned coast-to-coast but now extend overseas, both east and west, with orchestral, festival, and recital performances. Italian-born violist and competition winner Ettore Causa has been praised for his exceptional artistry, passionate intelligence, complete musicianship, and a "most beautiful sound." He has made solo, recital, and chamber music appearances around the world and became a faculty member of the Yale School of Music in 2009. Bassist Michael Thurber is a poly- musician who comfortably "speaks" differing musical languages as if each were his native tongue. He was the first undergraduate to be accepted into both the Classical and Jazz divisions of the Juilliard School. Composing musicals and concert music, playing in orchestras and clubs, or performing in the house band on The Late Show with Stephen Colbert, Michael exhibits a creative spirit and vibrant musical personality. Andrew Armstrong, Artist in Residence and pianist, returns with his immaculate technique and impeccable musicianship. Artistic Director, Host and Resident Cellist Edward Arron comes to Beaufort at this time of year for at least three reasons: to perform brilliantly, host insightfully, and check that the parking meters have been decorated for the holidays.
Holiday drum-beating has been going on nonstop since Halloween. Admit it, you are already exhausted from the pace. Take a couple of hours off. Massage your heart and soul with a serene, soothing, sublimely-stimulating performance. Experience the communicative power of chamber music! Concert information and tickets, as well as information about the recently launched Endowment, are available on www.uscb.edu/chambermusic or at 843-208-8246, Monday through Friday. The USCB Center for the Arts, located at 801 Carteret Street, opens at 4:15pm on the day of the concert, Sunday, December 15, 2019.