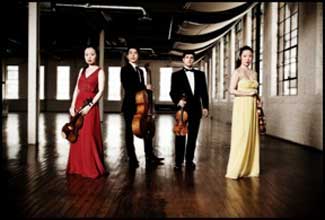 Fripp Friends of Music brings you Chamber music as you've never experienced it before! Come hear a unique quartet on the cutting edge of a new generation of musicians. Acclaimed by audiences in the US, Great Britain, Europe and Asia for their vibrant interpretations, violinists Domenic Salerni and Jessica Shuang Wu, violist Yinzi Kong and cellist Guang Wang will positively entrance you with a memorable musical performance.
Music critics have been heaping accolades on the ensemble for over a decade. After their Lincoln Center debut in 2001, the New York Times raved about Vega's "playing that had a kind of clean intoxication to it, pulling the listener along . . . the musicians took real risks in their music making . . ."; the Los Angles Times also praised Vega's "triumphant L.A. debut." Their tours have taken them throughout Europe, Asia, and North America; they've recently performed in Brussels, Paris, Cologne, Mexico City, New York, Tokyo, and Vancouver. In New York, they have appeared at all three Carnegie Hall venues (and on the prestigious artist roster of Carnegie Hall's New York City Neighborhood Concert series) and in the Bargemusic series at the Brooklyn Bridge. The quartet is a favorite at numerous music festivals, including Aspen, Brevard, Mostly Mozart, Rockport, San Miguel de Allende, Highlands-Cashiers, Amelia Island, Musicorda, Kingston, and SummerFest La Jolla, among many others.
Vega was appointed the Quartet-in-Residence at the Van Cliburn Institute, and was the only string quartet invited to perform by the Community Concerts Association.
This is a rare opportunity to see and hear this ensemble of superbly- talented musicians in person; following their appointment as the first full-time Quartet-in-Residence at Emory University in 2006, their virtuosity has been in constant demand.
Since then, their major projects have included the complete cycle of Beethoven Quartets, a Bach–Bartók cycle: the complete six string quartets by Belá Bartók combined with the six solo violin sonatas and partitas and six cello suites by Johann Sebastian Bach; as well as numerous world premieres, including works by Emory resident composers Steven Everett, John Anthony Lennon and Richard Prior. The quartet also developed several innovative programs with the Emory Dance Program.
Vega's live broadcast credits include NPR's Performance Today, the National Radio of China, Shanghai TV, Radio France, France Musiques, and the National Radio of the Czech Republic. The quartet captured four of the top six prizes at the 1999 Bordeaux String Quartet Competition (including the international music critics' prize), as well as top prizes at the Coleman Chamber Ensemble Competition, the Carmel Chamber Music Competition, and the National Society of Arts and Letters String Quartet Competition.
The ensemble frequently collaborates with some of the world's finest musicians including William Preucil, Sarah Chang, Richard Stoltzman, David Shifrin, Robert McDuffie, Eliot Fisk, Christopher O'Riley, Charles Wadsworth, Robert Spano, the Eroica Trio, the Ying Quartet, the St. Petersburg Quartet, and the vocal group, Lionheart.
Fripp Friends of Music invites you to enjoy an unforgettable evening with the Vega String Quartet, Sunday, January 26th at 5 pm at the Fripp Island Community Centre, 205 Tarpon Blvd., Fripp Island SC, 29920. Tickets at the door: Adults $25 per person/$10 for students. All attendees receive a free entry pass at the Fripp Gate and are invited to join the artists at an included catered event following the performance. Information (843) 838-6655. www.islc.net/friendsofmusic/