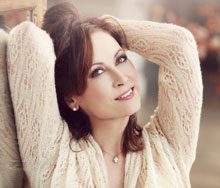 Broadway star Linda Eder will perform for one night only on Saturday, October 28, 7:30 pm at USCB Center for the Arts .
Showcasing one of the greatest contemporary voices of our time, Linda Eder's diverse repertoire spans Broadway, standards, pop, country and jazz.
As the tragic character "Lucy" in the Broadway musical Jekyll & Hyde, from composer Frank Wildhorn, Eder blew the roof off of New York's Plymouth Theatre each night as she belted out signature songs "Someone Like You" and "A New Life." Her Broadway debut, for which she was rewarded with a Drama Desk nomination, sent her already rapidly rising star blazing across the sky, securing her spot as one of America's most beloved singers and dynamic live performers. Stephen Holden of The New York Times wrote, "What do we mean when we use the word perfection? The question arises every time I watch the pop singer Linda Eder."
Most recently, in October 2013, Linda released Christmas Where You Are, the follow-up to her best-selling and critically acclaimed Christmas Stays the Same (2000).
Born in Tucson, Arizona, and raised in Brainerd, Minnesota, Eder began her career singing in her home state and eventually landed a gig at Harrah's Casino in Atlantic City. But it was her appearances on the 1987 season of Star Search, where she won for an unprecedented 12 weeks, that attracted the attention of audiences and record companies alike.
Eder launched her recording career in 1991 with her self-titled debut album and soon established a vital niche as America's most popular and acclaimed new interpreter of pop standards and theatrical songs with 15 solo albums and 12 musical recordings. Those albums highlight Eder's abundant vocal gifts as well as her skill for delivering dramatic, emotionally resonant interpretations of familiar songs while making them her own. She followed up with The Other Side of Me, a country pop blend of contemporary music, including a song written by Linda. And, in June 2010, Linda and Clay Aiken covered Roy Orbison's "Crying" as a duet on Clay's new album Tried & True.
The concert stage remains the mainstay of Eder's career. She has performed for sold-out crowds in venues across the United States and throughout Europe. She has been featured on numerous PBS television concert specials, including Clay Aiken's Tried & True, Hallelujah Broadway, Linda Eder: The PBS Concert, Best of Broadway: Broadway's Leading Ladies, Best of Broadway: Love Songs, Jim Brickman Plays The Disney Songbook, and more. Her 2001 holiday concert, Christmas Stays the Same, was broadcast on Bravo TV and continues to be a popular selling DVD.
Eder has performed at many prestigious venues such as Carnegie Hall, The Town Hall, The Kennedy Center, Davies Hall, Radio City Music Hall, Wolftrap, and the Ravinia Festival. Always touring in good company, her collaborations include the late Oscar-winning composer and pianist Marvin Hamlisch, Tony winner Michael Feinstein, and Keith Lockhart, conductor of the Boston Pops Orchestra.
Ticket are Adult $40, Senior/Military $35 and Student $20. For more information or purchase ticket go online to www.uscbcenterforthearts.com