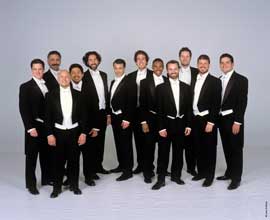 The Hilton Head Choral Society will present the Grammy-Award winning vocal ensemble Chanticleer.
All are invited to enjoy this orchestra of voices hailed as "The World's Reigning Male Chorus" 8 p.m. Wednesday, Oct 30. at Holy Family Catholic Church, 24 Pope Ave., Hilton Head Island.
The HHCS is excited to bring this world renowned vocal group to the greater Hilton Head community at affordable ticket prices as part of the HHCS Presents series. Consisting of 12 singers from the U.S., the group was named 2008 Musical America's Ensemble of the Year, and Billboard magazine's Top 10 best-selling classical artists. Their repertoire spans 10 centuries from Renaissance to contemporary music, jazz, spirituals and world music.
The HHCS Artistic Director Tim Reynolds says, "This is an amazing opportunity for locals to enjoy the talent of this world class group. HHCS members look forward to this event each year as a time to sit back and soak in an extraordinary display of choral expertise."
Established in 2006, the HHCS Presents series brings a wide variety of artists and styles of choral music celebrating the universal nature of the art of choral singing. Past artists include the Vienna Choir Boys, the American Boy Choir, the King's Singers, Swingle Singers, Voces8 (UK) and Cantus (USA). This is the first time Chanticleer has performed on Hilton Head.
"It's another way we SHARE THE JOY of Choral music with the community by bringing these premier groups to our area to have them share the joy of extraordinary music," says Mona Huff, HHCS's President.
Named after the clear-singing rooster in Chaucer's Canterbury Tales, Chanticleer has made more than 30 albums for Teldec/Warner Classics & Chanticleer Records. The ensemble was founded in 1978 and annually performs 100 concerts around the world.
Concert tickets are $35 for preferred seating (available online only) and $30 for general admission. Tickets may be ordered online at www.hiltonheadchoralsociety.org or purchased at these local businesses:
• Burke's Main Street Pharmacy, Hilton Head Plantation, Hilton Head Island
• Pretty Papers & Gifts, Wexford Plaza, Hilton Head Island
• Christie's Hallmark, Festival Centre, Hilton Head Island
• Christie's Hallmark, Belfair Town Plaza, Bluffton
• Markel's Gifts, Kitties Crossing, Bluffton
Tickets may also be purchased at the door the night of the concert. For more details, call 843-341-3818.
To view the Hilton Head Choral Society's full season schedule, please visit www.hiltonheadchoralsociety.org.