Beaufort Performing Arts is happy to present A Tribute to Johnny Cash starring Rusty Evans. On Saturday, September 13 at 8 pm, come join the fun, sit back and enjoy good ol' country legend's sounds.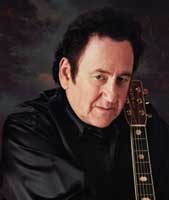 You will not believe your eyes and ears when you see and hear Rusty Evans bring the legend of Johnny Cash back to life! With a voice like rolling thunder and a spirit like gentle rain, Rusty brings you a repertoire of original story songs, rockabilly and country classics.
Rockabilly Hall of Famer Rusty Evans and his band Ring of Fire have been burning up the music festival circuit with their rollicking tribute to country music icon Johnny Cash. Rusty has been wooing audiences from Nashville to San Francisco with his stunning tribute to "The Man in Black." His weighted drawl doles out molasses-coated syllables putting an upbeat spin on less than optimistic situations. Lending his own touch to world famous songs, Rusty honors Cash with soulful honesty and exuberance.
The driving rhythms on Rusty's amplified acoustic Martin guitar are augmented by his energetic three-piece band Ring of Fire. A hot-rockin' lead guitar, driving bass and drums all create the powerful and irresistible Johnny Cash signature sound with a pulse that drives folks right to the dance floor. People always comment on how much Evans looks like "The Man in Black." He is honored by the compliment and destined to continue in the spirit of the country music legend he holds in such high regard.
When asked how he first came to sing, with such conviction, the songs of Johnny Cash, Evans replies, "I met the 'Man in Black' in the 1960's and was totally inspired, not to mention that Bob Dylan once told me long ago I sounded like Cash."
This is truly entertainment for the whole family, but it's one night only: Saturday, September 13 at 8 pm at the USCB Performing Arts Center.
Tickets are on sale now at the USCB box office. Ticket prices are $40-35-30 and half price for children 12 years old and younger.
Or consider purchasing BPA season tickets! This year's roster of great shows includes ballet, comedy, rock opera, dance, acrobats, kids' shows and more! Many different packages are available, and many different levels. For more information, call the Box Office at 521-4145, or stop by Monday – Friday between the hours of 10 am and 5 pm. The University of South Carolina Beaufort is located in the heart of downtown Beaufort at 801 Carteret Street.