The Beaufort Art Association is happy to announce that attendees to BAA art exhibit receptions will be greeted by the wonderful sound of The Laizee Rivers Band.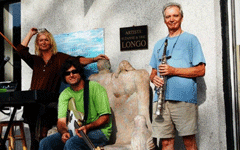 In fact, art lovers can hear the band perform from 5:30 – 7:30 p.m. on Friday, January 15 at the opening reception for Eve Miller's exhibit, Visual Poetry. The band will play on the veranda of the George Elliott House at 1006 Bay Street providing outside entertainment for all. When playing on the veranda, people strolling on the sidewalk near the marina hear the band and feel welcome to walk up to the mansion and view the art and enjoy refreshments with pleasant conversation. It is the kind of music for soft background, where one does not have to scream to be heard.
The Laizee Rivers Band has been performing in Beaufort for many years under the direction of Bonita Wreden, who plays jazz and blues improvisations on piano. She has played the accordion with other string instruments and now is excited about her new saxophone player Keith Wells. "If you see people of all ages dancing, you know your music rocks," say Wreden. Recently they performed for Night On The Town on the balcony of Bay Street Trading Company and gave comfort to shoppers who came out in the rain. The four members in the band include a drummer, Dennis Glaston, and an upscale bass player, Tom Davis, who have been providing Jazz on Sundays at the Four Winds Gallery.