Michail Lifits returns to Hilton Head.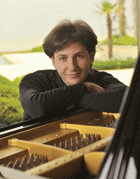 Michail Lifits was selected as the first prizewinner of the 2009 Hilton Head International Piano Competition by a prominent international jury which selected the winner based on the whole musician and not a performance, stating "Lifits combined the best skills with the most refined and thoughtful musicianship. He's really marvelous at getting at the core of the music." Direct from Carnegie Hall, Lifits returns this year as the soloist of the first HHSO Tchaikovsky concert in January, but will perform recitals in Bluffton and Beaufort later in the week.
On January 13, 2010 at 7:30PM, Mr. Lifits' program will include favorite pieces for piano by Chopin and Beethoven at the University of South Carolina Beaufort Performing Arts Center (USCB Arts Center), 801 Carteret Street, Beaufort. This recital marks the first Beaufort performance by a winner of the Hilton Head International Piano Competition. Ticket prices are $35, $25, and $20 and may be purchased by calling the USCB box office at (843) 521-4145 or online at beaufortscperformingarts.com.
A highlight of his tour will be the repeat performance of his Carnegie Hall Debut Recital in Bluffton, South Carolina, on January 15, 2010 at 7:30PM at St .Gregory the Great Catholic Church. His program will include works by Rachmaninoff, Schumann, Prokofiev and the South Carolina premiere of Daron Hagen's "Suite for Piano". Tickets are $25 and may be purchased by calling the Hilton Head Symphony Orchestra box office at (843) 842-2055 or at the door.
For information log onto www.hhipc.org.