Beaufort Performing Arts seeks hundreds of "stars" to help ensure a bright future.
In today's economy, many non-profit organizations are in danger of closing their doors. And arts non-profits have an even tougher challenge; people who are worried about putting food on the table tend to see art as a luxury. When folks are cutting back on charitable giving, the arts often take the hardest hit.
For all these reasons, Beaufort Performing Arts has seen its donation base decline by 70% since 2007. So, despite a growing audience and an ever-more-popular series of performances, programs and events, the fairly young organization finds itself contemplating its future.
Did you know that BPA provides fourteen school performances for over 4,000 Lowcountry students per year? That it produces two Beaufort Children's Theatre productions, each incorporating 70 local young people? That its newly-inaugurated Beaufort Theatre Company recently thrilled large audiences with a delightful production of "Arsenic & Old Lace," performed entirely by local actors, and has a musical in the works? Did you know that BPA presents ten Main Stage productions a year – featuring national and international acts – attended by over 6000 audience members?
BPA Executive Director, Bonnie Hargrove, discusses the bittersweet nature of the organization's dilemma:
"We feel like BPA is just hitting its stride! Our board of directors and staff have worked very hard for the past eighteen months to strengthen the organization's internal controls, recruit new board members and develop programs that reinforce our mission. We established classroom and rehearsal space at The Studio, started offering school shows to local students, and created the Beaufort Theatre Company, among other things. We've also established partnerships with other non-profits – Beaufort International Film Festival, Beaufort Boys and Girls Club, Mainstreet Beaufort, and the Beaufort School District, to name a few. But in spite of all these new performances, programs, and partnerships, we're struggling to overcome the loss of 70% of our donor base."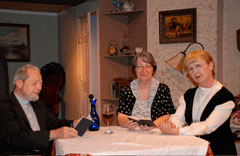 Hargrove and her board are under no illusions about the difficulty of their challenge.
"BPA's donor base had been comprised of people giving gifts of $500 to $10,000 (and even a one-time $100,000 donor!). We realize our current economy makes it impossible for people to give this generously."
With this ominous knowledge in mind, Hargrove started thinking about… stars.
"BPA promotes stars, makes stars, and understands that one star cannot light up the night sky. It takes hundreds," says Hargrove.
"So what if BPA asked everyone who has ever supported us – ticket sales, fundraisers, art shows, etc – to give what they can afford. If they did, then BPA could continue to shine… we could continue to light up Beaufort's sky."
So that's what they've decided to do. A BPA fundraising campaign is currently underway, scheduled to wrap up at the end of January. Time is of the essence, and the stakes for the organization are high… but the requested amount per donor is not. BPA is asking for donations of $100 per "star," but will gratefully accept smaller amounts. "Whatever you can afford," Hargrove stresses.
Hargrove says she'll be taking a pay cut, and other critical steps are being taken, but the organization is really counting on "star" power as it moves into the new year.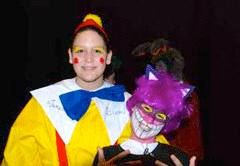 "BPA is poised to make great things happen, but we need to know that Beaufort residents and businesses value what we do," says Hargrove. "We need to know that our community wants fantastic performances from national and international stars and local theatre for children and adults. Beaufort is an arts town, and if residents and businesses want BPA to continue, we really need their help."
To become a BPA "Star," you can make a donation at beaufortscperformingarts.com ; mail a check to Beaufort Performing Arts, P. O. Box 278, Beaufort, SC 29901; or pay by credit card by calling 521-4145.