The United States Air Force Heritage of America Concert Band will present a memorable evening of musical entertainment at the University of South Carolina Beaufort Performing Arts Center on Saturday, February 7.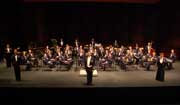 The program, sponsored by the Beaufort Performing Arts and the Arts Council of Beaufort County, begins at 7 PM. Admission to all Heritage of America Band concerts is FREE but a complimentary ticket will get you the best seats. Tickets are available at ARTworks in Beaufort Town Center Plaza (Kmart/Bi-Lo shopping center) or at USCB Performing Arts Center box office.
The Concert Band will present an exciting program of traditional classics, rousing marches, contemporary selections, a featured soloist and patriotic music.
Formed in 1941, the band entertains one million people each year in over 500 performances. They have performed for several Presidents of the United States, the President of France, and the Queen of England.