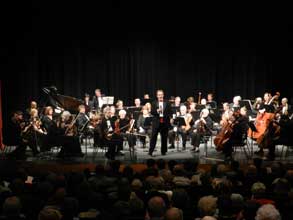 Beaufort Symphony Orchestra will weave some musical magic this holiday season with traditional and contemporary "pops" arrangements of some of the season's most popular tunes when "Holiday at the Pops" comes to the stage on Dec. 4 and 7.
            "The Parade of the Wooden Soldiers" played by the Beaufort Symphony Pops opens the festivities with arm-swinging melody and strutting rhythm that captures the vision of jauntily strutting toys. Known around the world, German composer Leon Jessel originally wrote the piece for the piano in 1897.
            Conductor Leopold Stokowski and arranger Percy Grainger collaborated to produce a full orchestra version of the traditional British folk song, "Shepherd's Hey," and composer Vaughn Williams arranged some of the most popular English Christmas carols in a holiday medley that will stir up your holiday spirits!
            The classic poem, " 'Twas the Night Before Christmas," has been set to music by master orchastrator Bill Holcombe, who arranged for and played in the bands of Tommy Dorsey, Tex Beneke and Fred Waring. Originally titled "A Visit from St. Nicholas," it was written in 1823 by Clement Clark Moore for his children. It is arguably the best known verses ever written by an American, and is largely responsible for some of the conceptions of Santa Claus from the mid-19th century to today.
            After intermission the Beaufort Symphony Orchestra Strings will take the stage to perform Johann Sebastian Bach's masterpiece, "Brandenberg Concerto No. 3 in G Major. Written in 1721, the whole collection of six works by Bach is widely regarded as some of the best orchestral compositions of the Baroque era. Following Bach will be Bill Holcombe's 'Christmas Jazz Suite" and the sizzling "Wizards in Winter" as performed by the Trans-Siberian Orchestra.
            Mark your calendars and make your plans to attend the Thursday, Dec. 4 concert at 7:30 p.m. or Sunday, Dec. 7 at 4:00 p.m. at the orchestra's new venue at Sea Island Presbyterian Church on Lady's Island. All tickets are $37.50 at the door, with the exception of Student tickets which are $5. Go the website at www.beaufortrochestra.org or order online at TIX.com or call 1-800-595-4849.  
            This concert is funded in part by the Carolina Arts Commission which receives support from the National Endowment for the Arts.