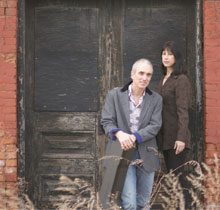 Friction Farmwill perform at Music on Malphrus, 110 Malphrus Road, in Bluffton, SC, Friday, February 9, at 7:00 pm. General Admission is $20. Doors open at 6 pm.
Modern-folk duo Friction Farm, is a husband and wife team of traveling troubadours. Aidan Quinn and Christine Stay combine storytelling, social commentary and humor to create songs of everyday life, local heroes, and quirky observations. According to New Times Magazine, they write "€œinfectiously hummable tunes." Sun Journal calls their music, "€œintricate harmonies reminiscent of the 1960s with a modern twist."€
They have toured internationally, been Kerrville New Folk Finalists, Falcon Ridge Emerging Artists, and South Florida Folk Festival Songwriter winners. Friction Farm's latest CD, "€œSo Many Stars"€ was inspired by their travels across the country witnessing the collision of strong political polarity with personal kindness, the intersection of fragility and breathtaking beauty. From ballads to anthems each song is filled with harmony and hope.
Previous recordings have featured songs inspired by books and the duo is committed to promoting literacy among adults and children. He's from Berkeley CA, she's from Woodstock NY. When not touring, Aidan does some woodworking and Christine bakes. They have a big garden and a small orchard at the sustainable home they designed and built in South Carolina.
For more information, visit www.frictionfarm.com