The Taylor Festival Choir, a professional, 24-voice choral ensemble conducted by Founding Artistic Director Robert Taylor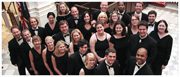 will present a program of choral music entitled Midwinter Remembrances at 2:30 pm at St. Peter's Catholic Church on Sunday, Janurary 27. Admission is $20 for adults, $5 students and senior citizens.
The program will feature Barber's beloved choral setting of the Agnus Dei (based on his famous Adagio for Strings), as well as works by Stephen Paulus, Johan Nepomuk David, David Mooney, and recently retired College of Charleston professor, Dr. David Maves. It will also feature a duet performed by TFC members Cliff Derix and Jennifer Crawford, and lighter choral fare associated with the career of the ensemble's namesake and founder Robert Taylor's father, Bob Taylor.
The Taylor Festival Choir is part of the Taylor Music Group, a Charleston-based arts organization dedicated to supporting musical education and performance in both Celtic/folk and classical genres. The Taylor Festival Choir is also the professional choir in residence at the College of Charleston. "Midwinter Remembrances" is sponsored by a generous donation from Dr. David Maves.
The Taylor Festival Choir has performed throughout the Midwestern and Southern regions of the US, including performances at state American Choral Director Conventions, and the Choral Artist Series in Piccolo Spoleto. In March, they will perform in the prestigious American Choral Directors Association 2008 Southern Division Convention in Louisville, Kentucky. Consisting of singers from over ten states, the Taylor Festival Choir has, since its inception in 2001, garnered critical acclaim from choral specialists and music critics alike. Their second compact disc recording, "This is Thy Hour O Soul" was recently released internationally on the Centaur Record label, and has been described as "Fabulous…Tremendous!" by Lindsay Koob of the American Record Guide and Charleston City Paper. Called a "rising star on the national choral scene," (Koob) Taylor's choirs have been described as sounding "more musical than would seem possible" (Robert Jones, Charleston Post and Courier) and have received numerous plaudits for their technical proficiency, beautiful sound production and stylistic authenticity.
Taylor serves as Artistic Director for the Taylor Festival Choir and Taylor Music Group. He also serves as Director of Choral Activities at the College of Charleston, and Director of the Charleston Symphony Orchestra Chorus and CSO Chamber Singers.
The Taylor Music Group is a Charleston-based arts organization dedicated to supporting musical education and performance in both Celtic/folk and classical genres. In addition to supporting the Taylor Festival Choir, The Taylor Music Group serves as the umbrella organization for the immensely popular Na Fidleiri—Charleston's Celtic Fiddling ensemble—as well as the Taylor Music Festival, a five-day summer music festival featuring that combines Celtic/folk and classical performance and instruction with artists of international renown.
The Taylor Music Group is named after Robert Taylor's father Bob Taylor (1935-1997). A high school and church choral conductor in Arkansas and Texas for 37 years, Bob Taylor's ensembles consistently achieved a remarkable high level of artistry—and were awarded for this artistry numerous times, including being named the Arkansas Choral Directors Association Honor Choir in 1967. Much like the fictional Mr. Holland of Hollywood fame, Bob Taylor dedicated his life to teaching music, and imparting his love and passion for art to literally thousands of students. Also an excellent tenor, an author, a fiercely loyal friend, and a loving father and husband, Bob Taylor's life and career were grounded upon values such as integrity, passion, and compassion. It is his continuing legacy that serves as the inspiration for the artistic mission of the Taylor Music Group.