Concertante to perform up at USC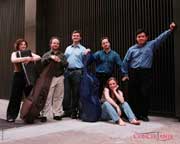 Beaufort Performing Arts will present "Concertante" – a group of six virtuoso string players on Sunday, March 29 at 7 PM on the stage of USCB Performing Arts Center. The musicians are outstandingly gifted young artists who have won major national and international music competitions. In the past decade "Concertante" has acquired a sheen, warmth, and polish only a few ensembles ever achieve. The internationally acclaimed group has graced the premier stages of the world from New York's Carnegie Hall to London's Royal Festival Hall to Shanghai's Grand Theatre. Concertante performs regularly at Merkin Hall in New York City.
The evening's performance will consist of a wide array of repertoire ranging from works by established masters to less commonly performed composers.
Tickets are on sale now at USCB's Performing Arts Center. Ticket prices are $40-35-30 and half price for children 12 years old and younger. Box Office: (843) 521-4145, Monday-Friday 10:00AM to 5:00PM. University of South Carolina Beaufort is located in the heart of downtown Beaufort at 801 Carteret St, Beaufort, SC 29902.