Marcus Belgrave, Detroit's internationally recognized jazz trumpet great, will perform a tribute to Louis Armstrong and the New Orleans Jazz tradition on Friday, March 20, at 8 PM.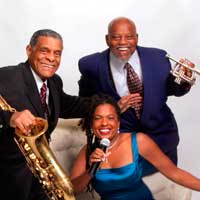 The performance will be held at the Performing Arts Center at the University of South Carolina in Beaufort, SC. Marcus will share the stage with his hot seven-piece band and vocalist, Joan Bow. Belgraves performances of Armstrong's trumpet classics follow the general shape of Louis' approach, but are delivered with his personalized interpretation and nuance. As a singer, Marcus is blessed with a natural low and gravelly voice… so his "Satchmo-like" vocalizing comes off evoking the Armstrong sound, spirit and warmth with uncanny ease. He currently also tours (as a special guest) with the Historic New Orleans Preservation Hall Band.
Tickets are on sale now at the USCB Performing Arts Center. Ticket prices are $40-35-30 and half price for children 12 years old and younger. Box Office: (843) 521-4145 Monday-Friday 10:00AM to 5:00PM. University of South Carolina Beaufort is located in the heart of downtown Beaufort at 801 Carteret Street.