MARK SHAFFER'S adventure continues…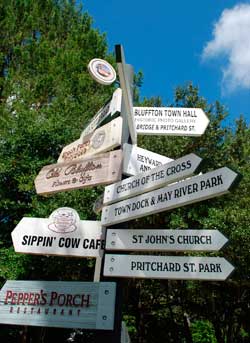 When the embers died and the smoke finally cleared in the humid June breezes of 1863, a clutch of just fifteen houses, two churches and a scattering of out buildings was all that remained of the town of Bluffton. What had once been – briefly – a prosperous haven on the high bluffs of the May River was forever changed by a Union raiding party sent to burn out spying Rebel pickets and maybe do a little pillaging in the process. Bluffton's dogged insistence upon survival is a two hundred year tale told with flood, fire, wind, rain, rice and cotton, slavery and sedition, war, boom, bust and boom again. Through it all the town of Bluffton has remained virtually unchanged in many ways until the recent explosion in development (see Part One). Yet, the beating heart of whatever modern Bluffton may become, is Old Town, a square mile National Register Historic District and the key to the town's past and future.
Forward into the past
Assuming you survive the traffic circle on Highway 46 leading into Old Town (at least 2 lanes next time, huh guys?), ignore 46's hard right onto May River Road and continue straight ahead on Boundary Street to the Heyward House at the corner of Boundary and Bridge. Local planter, John James Cole, built the home (probably with slave labor) as a summer house about 1840. Today Cole's summer retreat is known as the Heyward House Historic Center and serves as the town's official welcome center, museum, and a living reminder of what life was like for white Antebellum society. The slave cabin out back tells the rest of the story in volumes.
For the first time visitor to Bluffton, this is a key stop. This is not the sort of extravagant columned behemoth that lines Beaufort's Bay Street or Charleston's Battery, this is far less ostentatious – more middle class, if you will, and therefore somehow more connective to its time. Pick up any number of brochures on the town and the area here. The staff are friendly, helpful and eager to point you in the right direction and on a nice day – particularly a nice spring day – that direction is out the door with a map of the self-guided walking tour in hand and a "don't miss" list in pocket.
Walk this way
One of the best things about Old Town is that it always has been and hopefully always will be a walking town. And unlike its citation happy sister cities (cough, Beaufort! cough), parking is plentiful and it's – holy economic incentive – absolutely free. At least for now. So forget the hassles of pricey lot fees, insatiable meters and the parking patrol, park the family truckster and stroll, shop, sightsee, dine or picnic to your heart's desire. After all, this is apparently what the town of Bluffton wants you to do. Obey.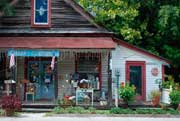 In Old Town the juxtaposition of past, present and future may be unique to the Lowcountry. The relatively small number of historically preserved structures represent a surprisingly broad range of architectural styles and eras, from Antebellum to Gothic to Greek to Victorian and more. Most are private residences to be appreciated from the street, beneath broad canopies of live oak and Spanish moss. The Church of the Cross (see Part One) on the bluff of the May River at the south end of Calhoun Street is not to be missed, and be sure to pack a cooler to the load up at the Bluffton Oyster Company. Both places are great picnic spots. The church grounds command a sweeping vista of the May River, while the magnificently renovated Oyster Factory Park (just a few hundred yards down river as the gull flies) is the new Lowcountry standard for public green spaces.

Something's happening in Bluffton. Something different. Something cool. It's palpable in the eclectic shops and galleries popping up all over Old Town. It's evident in the recycled whimsy of Nancy Golson's aptly named Eggs'n'Tricities, an old filling station converted to a boutique brimming with just what the name implies. The sign outside proclaims "funky stuff and junk" – truth in advertising, at last. I'm a big fan of the huge and hysterical collection of irreverent refrigerator magnets. Next door, Bernie Haag's transformed the old garage into the equally-aptly named Filling Station Art Gallery. This is a favorite browse with a microcosmic inventory of original Lowcountry arts and crafts. The old hydraulic lift is buried beneath a display table loaded with original carvings and jewelry. On a recent visit he had works by nearly 30 artists. I'm drawn to a series of oils all featuring scenes of Bluffton and the May River. There is a dreamy renaissance quality to the landscapes. The artist, I'm told is Guido Petruzzi, former CEO of Italian fashion icon Armani, now pursuing this second career out of his home in Charleston.

There seems to be a new artists' cooperative, gallery, specialty shop or studio each time I meander along the palmettos of Calhoun Street or venture off the beaten bath into the shaded side streets. Within little more than a square block Rhonda Fantozzi bends wrought iron to her will, Jacob Preston transforms clay into remarkable pieces of functional art, and Amos Hummell paints a colorful scene of Lowcountry life or another in his "Department of missing Poissons" series.
Art rules.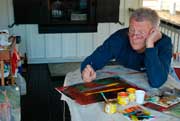 "This is an art community that has more than just geography in common," explains Preston, Bluffton's well-documented "tallest potter." He is indeed pretty tall. "I'm 6 foot 5," he tells me, "but I think my trajectory is shorter and wider. If I live long enough I may end up square." In addition to being Old Town's wittiest potter, as well as its most vertically gifted, Preston represents the original vanguard of the local art scene. His studio at 10 Church Street is indeed in an old church known as The Tabernacle. He's watched the ebb and flow since the late 1970's and what's happening now – even in tough economic times – is more flow than ebb. "Without a doubt the primary economy in Old Town is art," he explains. "This tends to attract a certain type of person and that attracts other businesses and all this has gotten better and better [in Old Town]."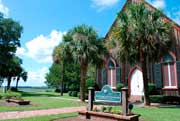 In the previous installment I spoke to developer Thomas Viljac whose retro-historic Carson Cottages represent a cornerstone to the future of Old Town. "Old Town needs energy," He told me. Today as I'm back to get an update on what may be a ground-breaking show his pal Amos recently hosted, Viljac has more news. The Bluffton Farmers Market will conduct its 2009 season in Old Town. "We're expecting between 1500 to 2000 people each Thursday between 2 and 6 p.m. It'll be all produce – agriculture only," he explains. The plan is to block off a section of Calhoun and a chunk of Lawrence which form the border to the Cottages. Moving the market from the Oyster Factory Park makes sense. "It's just more of a central location for everyone," says Viljac. "It's good energy, good traffic for the retailers here." This is good news as well for a part of old Bluffton that many fear is in danger of vanishing all together, the small family farm.

"The agricultural side is just as important as the Arts and History," asserts Viljac as he vanishes from the porch of the original Carson Cottage, leaving Amos and me to ponder the news. "It's all free range, man," says Amos after a beat. "It's all about taking opportunity out of chaos." Amos Hummell is nothing if not quotable.
When we last left the artist on his porch he was preparing to host a gallery show for a group of Hilton Head High art students. The idea was to give them a taste of the life. It's part of a serious commitment to the arts in education, something Hummell views as a key to "growing" a sustainable local art community. Hummell and others view Calhoun Street as ground zero for a new form of mutual cooperation.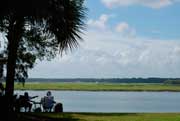 "We are helping others help themselves through arts education, community and commerce," He explains. "All those who participate are encouraged to paint their own opportunities for creative endeavor. And we've got enough latitude on this street (and throughout the county) that it should never be boring or repetitive. I don't even see the need for any turf wars." While the concept is broad and still evolving, Hummell says the general idea is to find new and interesting ways by which the entire community may profit. In Hummell's mind, as well as others, Old Town is an art town – not just a collection of pricey galleries, but a real functioning art town complete with studios and eccentric people making unique things in them. For the likes of Preston and Hummell and their colleagues the cultivation of this philosophy is absolutely essential.
"So how did the kids' show go?' I ask.

"Great," he tells me. "We had about 200 people. It was a big social event, like FaceBook live."
And did the aspiring artists sell anything?
"Not much. But that's okay, it's a reality check. They got a good lesson in art, soup to nuts. The shops made some money, though."
Apparently the proverbial genie's out of the bottle. Bluffton High's interested in exploring a similar event and that makes Hummell a happy man. "Once the kids are involved then the parents hopefully come along for the ride. And there are a lot of art students around here." He jabs the air with a paint brush, "You just gotta kick start it and let the surprises come."
And who doesn't love a good surprise?
Look for more on Bluffton in the Spring issues of The Lowcountry. Email comments and ideas to Mark Shaffer at backyardtourist@gmail.com