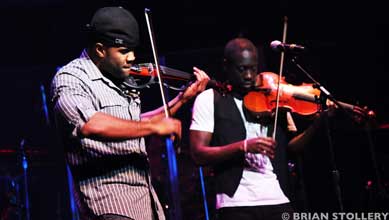 Black Violin will bring the house down when classical, rock and hip hop converge in a genre-busting show at USCB Center for the Arts.
"Rule number one for a Black Violin show – this is a party!" exclaims Kev Marcus who, with Wil B, make classical music cool with their out-of-the-box compositions layering classical with hip hop, rock and blues when they perform at USCB Center for the Arts on Friday, Nov. 1st.
Classical to dueling strings
Clad in their jeans and baseball caps, the two classically trained string instrumentalists work hard to make it all look like play in their family-friendly, high-energy show. Kev plays electric violin and Wil the acoustic viola, sometimes with the intense seriousness of orchestra soloists and other times fiddling and strumming bluegrass-style while bantering back and forth in their version of dueling strings. "We want our audiences to leave their worries at home and let the music take control," says Wil B. They are backed up by ace turntable whiz Dwayne Dayal (aka "DJ TK") and percussionist Jermaine McQueen (aka "Beatdown").
Inspiration from Bach to P. Diddy
The duo composes all its own music, sometimes starting with a classical piece, like Bach's "Brandenburg" concerto No. 3, or a contemporary piece from a blues, hip hop or rock artist. They turn it all upside down, mixing and melding until the incongruous musical styles have been fused into their signature stylistic "mash up." So you might recognize Bach, Beethoven or Tchaikovsky along with Marvin Gaye, P. Diddy or Aerosmith while you're clapping to the music and dancing in the aisles.
Found the life-changing power of music
After forming their group while still in college in Florida, Kevin Sylvester and Wilner Baptiste started adding hip hop to their compositions as a way to change things up and keep it fun. As their popularity grew they knew they had found a way to inspire young audiences to listen and respond to each other through music, and to encourage them to always follow their dreams, no matter how offbeat. They will be joined on stage by the Beaufort Youth Choir for one or two songs. The choir of 5th to 12th graders will be directed by Jordon Norris.
Performed in 49 states and 36 countries
Black Violin has performed in 49 states and 36 countries for audiences ranging from the troops in Iraq to Super Bowl attendees to the President's Inaugural Balls. "We don't have a demographic. It's for anybody and everybody," explains Wil. "We are blessed to be able to perform in any venue in any category."
"And you can bet our audience will see and hear something they have never experienced before," says CFA Director Bonnie Hargrove. "We are expecting a sold out house for this one-and-only performance, and suggest that you make your reservations early."
Online ticketing is available at www.uscbcenterforthearts.com or call the box office at 843-521-4145. Adults $25 – 20; Seniors $18 – 15; Students $15 -10, all seats are reserved. Tickets also sold one hour prior to curtain at 7:00 p.m. on Friday, Nov. 1. USCB Center for the Arts, 801 Carteret Street, downtown Beaufort.