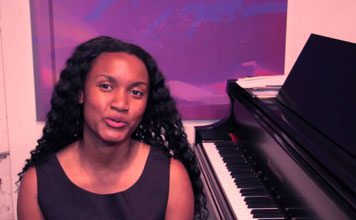 "A petite piano powerhouse" and an "inspirational pianist," that's how Ronée Boyce has been described. She is quickly establishing herself not just as an inspirational, but also as an international artist.
She has impressed audiences with her intense musical sensibility all over her home country Canada, in prestigious venues such as Carnegie Hall in the US, in England, France, the Republic of Armenia, the Czech Republic, Spain, etc. According to the Caribbean Daily Herald, she "charmed the audience with beautifully shaped phrasing of each musical line, drawing her listeners into an otherworldly web of poesy and elegance." A strong advocate of the Slavic repertoire, Boyce has a keen interest in championing Russian works, often introducing lesser-known compositions. When the great Russian pianist Lazar Berman heard her interpretation of a piano concerto by Prokofiev, he declared: "Somewhere, very deep inside of you, you are Russian." Ronée is fluent in English, French and Spanish, speaks basic Italian, Romanian and Czech, and is currently learning— guess what —Russian. International indeed. 
A native of Toronto, Canada, Ronée maintains a versatile career as a piano soloist, chamber musician and pedagogue. She serves as artistic director of Canada's Neapolitan Connection Concert Series that supports young musicians world-wide, and is co-founder with French cellist Gwendeline Lumaret of Duo Primo. She won the New York International Piano Competition in 2006 and, as a soloist, has since received numerous prestigious prizes. But she is also in high demand as a chamber music performer, having collaborated with a number of renown cellists. 
"I taught music at a school for underprivileged children in Toronto," Boyce told The Tribune, "and have experienced firsthand the everlasting benefits of sharing the gift of music with young minds." Since, in collaboration with other chamber musicians, Boyce has given benefit concerts in the Bahamas and elsewhere to assist aspiring music students.
You should know that Boyce has a special gift, in addition to being a piano virtuosa. Do you see colors when you hear music? Well, Ronée Boyce does, and she sees colors when she plays music. Few people have what is known as synesthesia, the fusion of different senses. Specifically, she has a form of synesthesia called chromesthesia, the association of tones with color. "Okay, so what is, like, D?" one of her former high school friends asked her recently. "If I'm in the key of D major . . . it's bathed in a backdrop of green." "Coooool. Do you ever see Tie Dye, like a Grateful Dead shirt?" "No. E is sky blue and F is grey-purple . . . and it smells bad." In an interview with Panache Magazine she explained: "As an artist, I really consider it a privilege to associate sound with color, which, once combined, create a heightened sense of beauty and musical experience." 
Perhaps you, too, will see colors when you hear Ronée Boyce play on Sunday, February 25 at 5:00 pm at the Fripp Community Centre, 205 Tarpon Boulevard. This wonderful concert is sponsored by the Fripp Friends of Music and supported by the SCAC. You get a free pass at the Fripp gate. Tickets at the door: adults $25 (cash or check only), students free thanks to the Peg Gorham Memorial Fund. And you are invited to join Ronée at a complimentary catered reception after the performance. www.frippfriendsofmusic.com or call 843-838-1777.