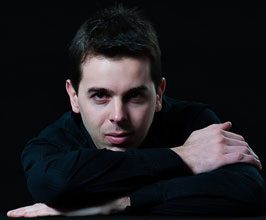 Fripp Island Friends of Music has brought world-class pianists to the Fripp stage for over three decades. This year they've outdone themselves by hosting the incomparable Mauro Bertoli.
Bertoli, born in Brescia, Italy, has called Canada home since 2009, and is the classical pianoArtist-in-Residence at Ottawa's Carleton University. He achieved this coveted, distinguished position by unusual diligence and extraordinary talent. He has won twenty-four national and international piano competitions and received the prestigious Giuseppe Sinopoli Award in Italy. He performs regularly at important music festivals and in major concert halls throughout Europe, North America, South Korea, Israel, Brazil and China.
He has prepared for the international stage his entire life, with a focused, demanding course of study, seeking and receiving certifications from a "Who's Who" of world-class institutions. These include the Academy of Music "G. Verdi" in Milan, the Academy "S. Cecilia" in Rome, the Foundation "R.Romanini" in his birthplace, Brescia, the Royal College of Music in Stockholm, the Ecole Normale de Musique "A. Cortot" in Paris, winning as well the International Certificate for Piano Artists in Brussels.
Naturally, reviews of Mauro Bertoli's performances contain every imaginable superlative. Reviewers, though, often are a bit too predictable. So it is pleasantly surprising to come across a reviewer so amazed by Bertoli's whirling dervish-like prowess, that he wonders aloud about possible dire consequences of the artist's physical over-exertion.
". . . Bertoli seems not to have any difficulties with the virtuoso Etudes by Schumann-Paganini . . . played with nimbleness, this tour de force earns Bertoli warm and long applause that stops only after 4 encores . . . the last encore is the 6th Hungarian Rhapsody by Liszt and the audience is wondering if the pianist will reach the end without dying. And when the last chord explodes and the victorious pianist stands up, the audience offers a standing ovation, clapping their hands and shouting Bravo. . ."
Carlo Bianchi – Brescia Musica
Fortunately, this hometown music critic was spared having to report on Bertoli's funeral. But he was right about Bertoli's encores. Enthralled audiences are reluctant to let him leave the stage. Another observer of the international music scene believes that Bertoli has earned an honored place in an exclusive constellation of Italian piano stars.
"In the world of classical music, Italy has long been known for producing famous singers and conductors. For some reason, though, the list of renowned Italian pianists is considerably shorter — Arturo Benedetti Michelangeli and Maurizio Pollini are among those who come to mind. However, with the release of three CDs on the Cavalli Musica label featuring a young artist by the name of Mauro Bertoli, that list should be immediately augmented! . . . Bravissimo, Mr. Bertoli — let's hear from you again!"
Richard Haskell – The Whole Note Magazine
---
Well, we SHALL hear from Mr. Bertoli again—and SOON! If you want to see this exceptionally accomplished musician, take that drive out Route 21 on February 21st. Let your cares fall away as you travel through the salt marsh and across the bridges to Fripp Island. The venue is exquisite and perfect for a delightful evening. You will experience an exhilarating performance, technical virtuosity and deep musicality. And to make your visit to Fripp complete, you will be invited to attend a reception following the concert. In short, one of the best concert values in the Lowcountry.
Piano virtuoso Mauro Bertoli takes the Fripp Friends of Music stage Sunday, February 21st, at 5 pm, Fripp Island Community Centre, 205 Tarpon Boulevard. Be prepared for one of the most delightfully entertaining evenings you have ever experienced! Tickets at the door, Adults $25/$10 Students. All attendees get a free pass at the Fripp gate and are invited to join Mr. Bertoli at a complimentary catered reception following the performance. For more information, visit http://www.islc.net/friendsofmusic/ or call (843) 838-6655