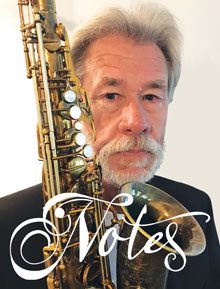 Jazz saxophonist Thom Chambers will headline the second Notes: An Evening of Musical Storytelling & Casual Conversation to benefit the Boys & Girls Club of Northern Beaufort County. The first Notes event in 2016 set a very high bar -€" showcasing Frank Almond and his Lipinski Stradivarius -€" and the organizers are delighted to follow that success with a musical guest of equal caliber who might just be Beaufort's best-kept secret.
You may have seen him jamming with neighbors at Maggie'€™s Pub in Habersham, or entertaining a late dinner crowd at Panini'€™s or Wined It Up downtown. You knew Beaufort was lucky to have a local who could blow a horn like that. But what you might not know is that Thom Chambers is a much sought after world-class jazz musician who plays all the big venues -€" from Hilton Head'€™s own celebrated Jazz Corner to the Montreaux Jazz Festival in Switzerland.
According to his website, Chambers is equal parts musician and entertainer. "€œHe combines the two capabilities so seamlessly that – like the chicken or the egg -€" you wonder which came first, the entertainer or the musician."
Media reviews echo similar sentiments, commenting on Chambers'€™ "captivating, entertaining showmanship," and using phrases like "great musicianship"€ and "crowd-pleasing" to describe his on-stage persona.
Chambers' class and clarity, elegance and intelligence, make a definitive mark on listeners before blending like spice into a Latin beat, a jazz standard, or one of his signature tunes -€" like Chet Baker's– My Funny Valentine, which Chambers made his own before renaming it My Funky Valentine. Whether he's performing original material, traditional jazz, or jazz standards, Thom's understanding, enjoyment, and appreciation of music energizes every show.
He has performed with Miami Sound Machine, and opened for the likes of Earth, Wind and Fire, Chris Botti, Gregg Karukus, and NBA star turned musician Wayman Tisdale. He was well known as co-founder, and on-stage leader, of the former jazz group Indigo City.
For the Notes event, Thom Chambers – and an ensemble of musical friends – will put that "€œcrowd-pleasing showmanship"€ to good use, delighting the audience with stories from the road and terrific jazz music.
In keeping with the original event, this year'€™s Notes won'€™t be a stuffy concert in a hushed auditorium; it will be a fun, casual party with great music and conversation. Event coordinator Jodie Miller of Plum Productions says Tabby Place will have a "€œjazz clubby feel."€ Saltus River Grill will serve up delicious food and the cocktails will flow. There's an art auction in the works, featuring donated pieces by several of Beaufort's finest artists offering their interpretations of "€œjazz"€ in a variety of media, and Amiri Farris will be on the scene creating one of his "€œlive action paintings."€ Student art will be on display as well.
Honorary Chairs for Notes 2018 are Joe and Lin Mix.
"€œJoe was instrumental in founding the Boys Club of Greater Beaufort (now the Boys & Girls Clubs of the Lowcountry) in Beaufort in 1985 and has been our most ardent supporter since then," says board member Michael Gonzalez. "A past National Trustee for the Boys & Girls Clubs of America and a member of Boys & Girls Clubs of America Jeremiah Milbank Society, his generosity and passion for our cause have been unsurpassed in this community. The thousands of kids whose lives have been touched by the services of our Clubs have Joe to thank. Without him, we would simply not exist!"
Boys & Girls Club CPO Chris Protz agrees. "Joe Mix truly is a champion for the youth in Northern Beaufort County. For the past 32 years he has given his time, his talents and his financial support to the Boys & Girls Clubs in order for us to serve the youth who need us the most. Without Joe's generous support there would not be a Boys & Girls' Club program in Northern Beaufort County."€
"€œThe Boys & Girls Club is a safe haven where members feel physically and emotionally secure at all times,"€ says Protz. "The Club ensures that every young person feels connected to one or more adults and has the opportunity to develop friendships with peers. Everything Clubs provide young people, including life-changing programs, fun, enriching experiences, supportive relationships with peers and caring adults, enables and empowers Club youth to achieve positive outcomes."
Notes: An Evening of Musical Storytelling is Friday, January 12th at 6 pm at Tabby Place in downtown Beaufort. Sponsorships and group packages are available, and seating is limited. Tickets are $75. For sponsorship information or to purchase tickets, please call the Boys & Girls Club office at 843-379-5430 or email alittlejohn@bgclowcountry.org