The Odyssey Jazz & Swing Orc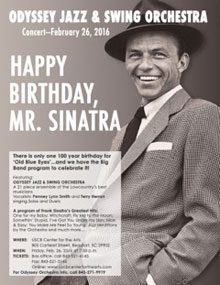 hestra will play a birthday tribute to Frank Sinatra, featuring Penney Lynn Smith & Terry Herron singing Sinatra hits, offering tidbits of Sinatra history and lore along the way.
It's not just a concert; it's a major "show" full of surprises. This is a musical journey through Sinatra's incredible 60 year career, spotlighting his unique ability to reinvent himself for each new generation. The 21-piece Odyssey Orchestra is not your mom and dad's retirement band . . . it's a 'Big Band Machine' featuring the region's best professional Jazz & Swing musicians.
'Happy Birthday, Mr. Sinatra' happens Friday, February 26 from 7:30 – 9:30 pm at the USCB Center for the Arts. Tickets are available by calling 843-521-4145 or online at www.uscbcenterforthearts.com