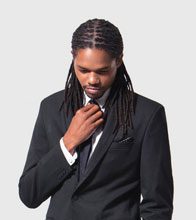 The award-winning crooner will perform again – this time with Temptations member Joe Coleman – at a gala to benefit the Boys & Girls Clubs. 
By Mindy Lucas
When Landau Eugene Murphy Jr. first appeared on America's Got Talent in 2010, America went a little gaga over the singer with the smooth voice, to say the least.
Murphy's rise to stardom captivated millions who watched as his "rags to riches" story unfolded on live television. But what was somewhat unusual was that Murphy's star kept right on rising.
"It's been nine wonderful years," the singer said recently by phone from his native West Virginia where he was taking a break between tour dates and having dinneroutwith friends. 
Murphy had just finished his last show of 2019 at the Catalina Jazz Club in Los Angeles and had also wrapped upwhat he called his 45thbirthday album"Live in Las Vegas," recorded over the summer at Caesar's Palace. The album – his fourth – is due out this spring.
Looking back on those first few years after winning big on America's Got Talent, Murphy admits they were "a bit of whirlwind," but said he always tried to stay grounded through it all.
"My eyes were open the whole time and my feet were firmly planted on the ground the whole time," he said. 
After Murphy walked off with the talent show's million dollar grand prize, he went on to cut not one but three albums in just five years, all while appearingon a slew of TV news and talk shows and touringnon-stop. 
Hisdebut album "That's Life" hit No. 1 on the Billboard Jazz chart and he even performed duets with childhood heroes, singer Patti Labelle, and Temptations front man Glenn Leonard.
And while his bank account may have changed, he has basically stayed the same, he said.
"I don't ever want to forget where I'm from," he said. "That's why I moved right back to Logan, West Virginia. I'd just rather be home."
That sense of being comfortable in his own skin may have been what kept Murphy from being a one-hit, or in his case, a one-contest wonder. That, and an enormous singing talent.
From Cole Porter to Dean Martin to Frank Sinatra, Murphy's timeless, soulful interpretations of the classics have reinvigorated a love of the genre among fans and those who are new to the music as well.
This month, for the second year in a row, Murphy will bring his show to Beaufort for "An Evening of Musical Storytelling & Casual Conversation," a benefit for the Boys & Girls Clubs of Northern Beaufort County. 
Performing for such worthwhile endeavors is something Murphy takes to heart – particularly given his humble beginnings. Before hemade his musical debut on America's Got Talent, he was washing cars in his hometown of Logan, West Virginia. Prior to this,hehad experienced homelessness at the age of 19.
"I want to give back more than I can take in, because I can take in a lot if I felt like it," he said laughing. "But I'd rather give back."
The singer recounted how, as a boy living in Detroit for awhile, he saw members of the Detroit Pistons and those he grew up with,like Chris Webber, giving back to the community and mentoring youth. 
"Those experiences taught me a lot," he said. "It made me say, when I get to that place I'm going to do the same thing or even better."
Now he marvels at a life spen tdoing what he loveswhile giving back himself and singing with people he has always admired.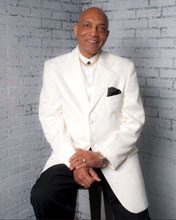 When he travels, he often ropes in other artists such as Glenn Leonard and Joe Coleman, from The Temptations, or Joe Blunt, from TheDrifters. In fact, Coleman (left), who also sang with The Platters and The Drifters, will also perform at "An Evening of Musical Storytelling & Casual Conversation" in Beaufort.
As a member of The Platters for 23 years, Coleman was a regular at the Sahara Hotel in Las Vegas where he performed such hits as "Only You," "My Prayer," "Smoke Gets in Your Eyes" and "The Great Pretender." In addition, he has performed with Barbra Streisand, Smokey Robinson, Natalie Cole, B.B. King, Lou Rawls and the list goes on.
"The great thing about these guys is they paved the way for me to be on stage," said Murphy, who refers to them as "Living Legends." 
"I'm always going to pay homage to them, especially if they're still alive," he said, adding that it is a shame that the public often waits until someone has died before realizing or celebrating their greatness. 
"But I want to give them their roses now," he said.
Murphy said the three performers have taught him a great deal,even just how to slow down and enjoy those moments singing on stage. 
Appearing as calm and ultra cool as he does when he first strolls out, as he did all those years ago on America's Got Talent, is something of a trick, he said. It's away of overcoming nervousness or even being scared.
"The stage just became my comfort zone where I can fit in with anybody, any ethnic group, and culture anywhere," he said. "It became like a safe place for me to be myself… Singing this music is actually the freest moments of my being."
The Boys & Girls Clubs of Northern Beaufort County's fourth annual gala event will feature "An Evening of Musical Storytelling and Casual Conversation." The event starts at 6 p.m. Friday, Jan. 17, at Tabby Place in downtown Beaufort. Sponsorships and tables are available and seating is limited. For more information call the Boys & Girls Club at (843) 379-5430 or visit www.bgclowcountry.org.