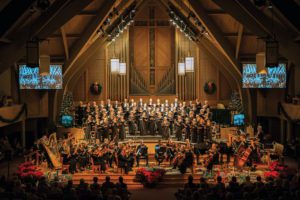 The Hilton Head Choral Society is excited to kick-off its 2022-2023 concert season with A NIGHT AT THE MOVIES on Friday, September 30 at 7 p.m. at First Presbyterian Church, 540 William Hilton Parkway. This concert, with full chorus and orchestra, will be the debut of Choral Society Artistic Director, Dr. Dustin Ousley.
The season's first concert will feature a tapestry of familiar tunes from popular cinematic films including: Saving Private Ryan, Home Alone, Star Wars, Gladiator, Prince of Egypt and much, much more. Some of the favorite pieces that will have the audience singing along include: "My Heart Will Go On" from Titanic; "Somewhere Over the Rainbow" from The Wizard of Oz; "Kiss from a Rose" from Batman Forever; and "Nine to Five" from Nine to Five. The concert will take the audience on a cinematic journey through the decades, featuring musical pieces for all ages.
For the 2022-2023 season, Dr. Dustin Ousley has taken the reins of the Choral Society as the new Artistic Director, bringing with him years of experience studying, teaching, participating in, and directing musical performances in a variety of settings. He has a Bachelor of Arts in Music from Furman University, a Master of Music in Choral Conducting from UNC-Greensboro and a Doctorate of Music Arts from University of South Carolina. Ousley is currently an Assistant Professor of Music at Charleston Southern University where he also serves as Director of Choral Activities and Coordinator of Choral Music Education.
"Ousley promises to bring excitement and passion to our group," says Walter Lowe, President of the Choral Society. "We are confident that he will create dynamic and entertaining programming for our audience."
Join the Choral Society as they celebrate American film and perform the music that made each story   memorable.
For the health and safety of all, ticket holders will be subject to any COVID-19 policy established by either Hilton Head Choral Society or First Presbyterian Church at the time of the concert. Tickets are available now online at www.hiltonheadchoralsociety.org. For more information or for assistance placing your ticket order, call 843-341-3818 or email tickets@hiltonheadchoralsociety.org.
ABOUT THE HILTON HEAD CHORAL SOCIETY
Hilton Head Choral Society is open to people who love to sing and who enjoy good fellowship. The Choral Society is a 5013(c) non-profit organization. Dues are charged to partially cover musical expenses. The primary source of financial support comes from ticket sales, donors, program advertisers, concert sponsors, and grants. The Hilton Head Choral Society is a member of Chorus America, a national organization promoting the art of choral singing.