Rebecca Folsom in concert at ARTworks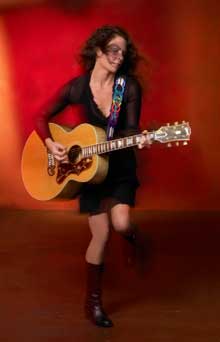 When Rebecca Folsom sinks her teeth into a song, an emotional intensity emerges that is both deeply stirring and joyously transcendent. Her performances cover the human landscape from humorous, sexy, life challenging and inspirational to heart opening and spiritual.
Daily Camera writes, "Folsom shines on the mellow, almost spiritual ballads, a cross between Joni Mitchell's lush, soul-searching folk jazz and the Cranberries' mystic pop." With an equal dose of angel and little devil, she is capable of offering the most tender of ballads then effortlessly engaging a wide-open Rock & Roll cathartic release. She appears to be channeling something a lot larger and wilder than her small frame might first suggest. Folsom believes music is all about sharing the human connection, feeling our joys and sorrows, and always offering a bit of hope. She shines when performing in a spare acoustic setting and then explodes with the blazing intensity of her band: audiences are in for an uplifting, joyous, and truly moving musical ride. Rebecca has been writing and performing professionally for over 17 years, and has played on BBC television/radio, Red Rocks Amphitheater in CO, The Bluebird and Opryland in Nashville, TN, Falcon Ridge Festival, NY, Kerrville Folks Festival, TX, and Rocky Mountain Folks Festival, CO. A true renaissance woman, she has released 10 CD's, 2 books of poetry, and numerous paintings of fine art. Her newest project, Reunion, released this year has brought all these creative genres together, joining a work of art and piece of prose with each recorded song.
"Her songs hit like little earthquakes, Rebecca shares a blues bent and a vocal prowess of Susan Tedeschi." — Westword Magazine
Rebecca Folsom will perform Saturday, May 4 at 7:30pm. Tickets are $17 per person, $12 for students (13+), $7 for children (12 and under) and $12 for groups of 10 or more. ARTworks' black box theater is surrounded by artists working in their studios, galleries, workshops and the HQ of the BIG Story Fest. 2127 Boundary Street, 29902, www.ArtWorksInBeaufort.org, 843-379-2787.