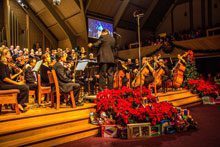 Experience the joy of the holiday season at the 'Christmas in the South' concert presented by the Hilton Head Choral Society (HHCS) on Friday, December 14, 8 pm at First Presbyterian Church, 540 William Hilton Parkway. A joyful holiday treat, this 'Christmas in the South' concert is set to be an entertaining event for all ages.
Since 1975, the HHCS's annual Christmas concert has always been a highlight of the holiday season. According to Tim Reynolds, Artistic Director for HHCS, "Our 'Christmas in the South' concert features carols galore, holiday classics and family favorites.
"We always look forward to this concert and it is our pleasure to share the joy of song with our community. It is wonderful to see the spirit of the season come to life through the music and in the faces of our audience."
Tickets are now on sale for 'Christmas in the South.' For details and tickets, go to www.hiltonheadchoralsociety.org or call 843-341-3818. Get your tickets now for this Island holiday tradition before they sell out!