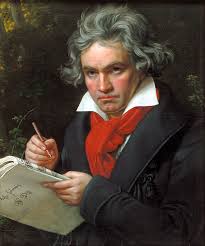 Everyone has heard of Beethoven. He wrote the famous "€œV for Victory" tune and a bunch of other stuff. A dog movie was named after him. In real life (1770-1827) he was a slob with bad hair who was such a lousy neighbor and tenant that he was forced to move more than forty times. He dressed shabbily, was rude and disobedient, and cheated his publishers when he could. What could a man such as this have to offer us in 2018?
Beethoven also had some good qualities. Loyal to his friends, he firmly believed in the equality of all men and the principals of the French Revolution, as did Thomas Jefferson and many others, including the signers of our Declaration of Independence. What set him apart then and sets him apart now is the he was a musical GENIUS who single-handedly changed the course of music history in ways that reverberate down to us this very minute. How can this be true?
Come to the USCB Chamber Music concert on Sunday, January 28, 5:00pm and hear the reasons. Three string quartets, one from his early, middle, and late period, will be performed. They are so unalike as to have been written by three different composers. The first summarizes the forms and style of the classical period, the second sets the standard for the romantic period, and the third throws off all tradition and writes for posterity. If you were ever curious as to what the big deal is about Beethoven, this is the concert for you. Because each of the three pieces is a string quartet you will be able to make an apples-to-apples comparison.

String Quartet in G Major, Opus 18, No. 2from 1799 possesses the elegant musical entertainment quality often associated with Beethoven's immediate forebears, Mozart and Haydn. Written in a simple style with amateur ensembles in mind, it is nicknamed the "Komplimentier-Quartett"€ ("€œCompliments Quartet"€) because of its polite, gracious, playful and energetic surface. It is not, however, mimicry or mere brand copying. Beethoven honors earlier traditions but unique elements of form and detail are already observable.
The three Opus 59 quartets (1806) – €"the Rasumovsky Quartets, dedicated to the Russian Ambassador €"remain extremely popular today.String Quartet in e minor, Opus 59, No. 2displays greatly expanded form, anticipating symphonic architecture, and incorporates a heightened level of sensitivity and drama. It was decidedly not written for amateurs; intricate layering of parts and ambitious development of themes place heavy technical demands on the players. Romantic-period, extra-musical imagination drives the content.  Beethoven told his student Carl Czerny that the second movement was inspired by contemplation of the starry firmament and the music of the spheres.
Beethoven wroteString Quartet in c-sharp minor, Opus 131in 1826 and appears to have thought it his finest. He was now stone-cold deaf and wrote what he imagined, not caring a whit about the technical difficulties he was heaping on the performers. It was written for the ages and has consistently been regarded with awe and wonder. No chamber music work surpasses its depth, scope, originality, or organic perfection. Its seven sections are played without pause and the final allegro was described by Richard Wagner as "€œthe fury of the world'€™s dance -€" fierce pleasure, agony, ecstasy of love, joy, anger, passion, and suffering; lightning flashes and thunder rolls; and above the tumult the indomitable fiddler whirls us on to the abyss."€ This is clearly not music for the faint of heart.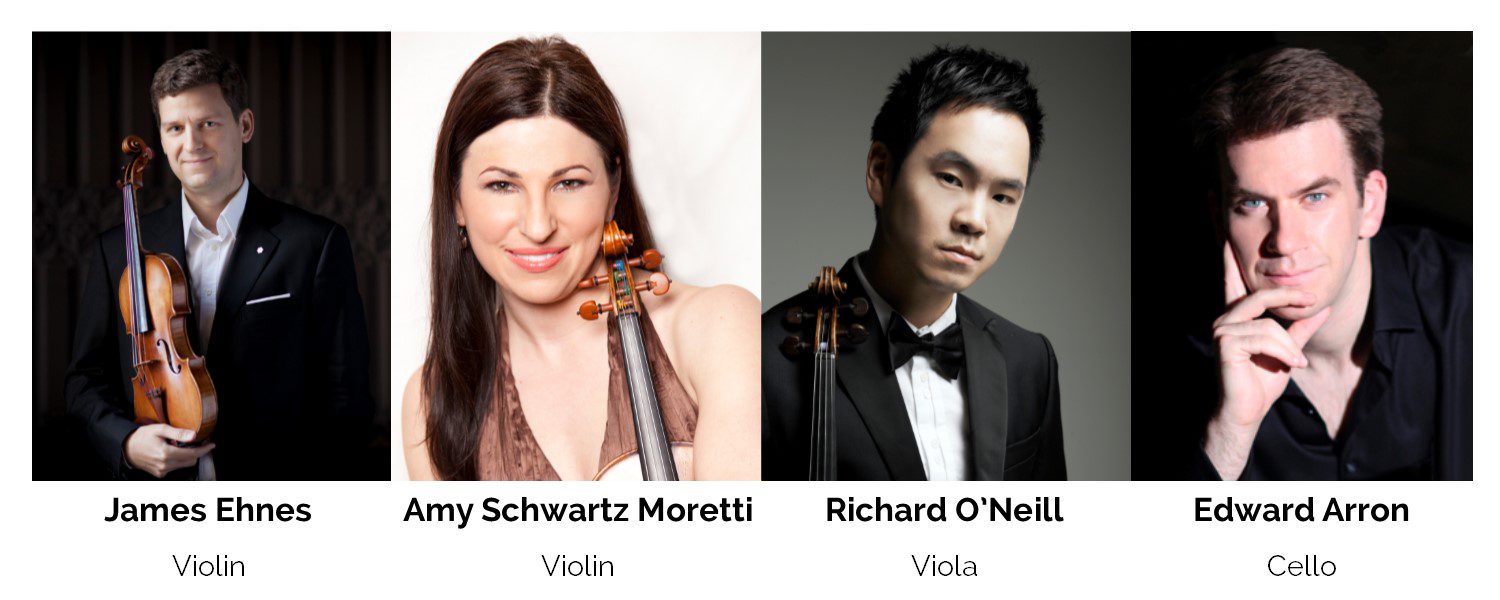 These great works will be played by the Ehnes Quartet, hailed as "€œan important new force in the chamber music arena"€ with a "€œdream-team line-up"€ (Strings). Formally established in 2010 at the Seattle Chamber Music Society, where they maintain a yearly residence, the members have played chamber music together in various formations for more than 20 years. First violinist James Ehnes has established himself as one of the foremost violinists of his generation with an international orchestral-solo and recital career. Last October his performance of the BarberViolin Concertowith the Chicago Symphony garnered rave reviews. James Ehnes plays the "€œMarsick"€ Stradivarius of 1715. Second violinist Amy Schwartz Moretti is a frequent guest on this series. She has a musical career of broad versatility and accomplishment, including orchestra concertmaster positions, chamber music performances, and university professorships. Amy Schwartz Moretti plays a 1744 G.B. Guadagnini violin.
Violist Richard O'Neill is an Emmy Award winner, two-time Grammy nominee, and Avery Fisher Career Grant recipient who has performed chamber music, concertos, and recitals nationally and internationally. The first violist to be awarded the artist diploma from Juilliard, he has made eight solo albums that have sold more than 200,000 copies. The newest member of the quartet is Beaufort's adopted-son, USCB Chamber Music's cellist/master-of-ceremonies, Edward Arron. Following a quartet concert in Miami during February, 2017, The South Florida Classical Review wrote: "€œOn the basis of the performances at Thursday's concert, not only does Arron blend well with violinists Ehnes and Amy Schwartz Moretti and violist Richard O'Neill, his playing and teamwork actually raise the ensemble's already high artistic standards."€
If you want to listen to a brilliant performance and experience what the big deal is about Beethoven, come hear his music for yourself at the USCB Chamber Music concert on Sunday, January 28, 2018, 5:00pm. A free Preconcert Conversation with Dr. Michael Johns will be presented in the concert hall from 4:00-4:30pm. Series information and tickets, as well as information about the newly launched Endowment, are available onhttp://www.uscb.edu/chambermusicor at 843-208-8246, Monday through Friday. The USCB Center for the Arts, located at 801 Carteret Street, opens at 3:30pm on the day of the concert. Come and experience the joy of chamber music and the wonder of Beethoven.