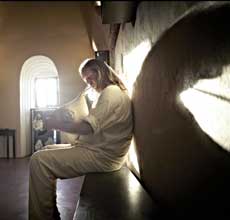 Enjoy a 'musical journey' of handmade wind instruments, and a few other surprise instruments too, constructed by Yannis Pantazis, a musician, composer, instrument artisan.
His harmony, melody and rhythm tell a story using a mythological narration to explain the development of primitive wind instruments, from the double-flute, to the tsabouna (Greek bagpipe).
The presentation includes a look at the renovation of Pantazis' exhibition space and workshop in La Ponta, a 13th century Venetian tower of the Castle of Akrotiri on Santorini Island in Greece.
This presentation is also interactive – bells and handmade Cycladic Greek drums are put in the hands of the audience.
The message is that "music" is a toy, this is why these musicians say "I PLAY music," educating and uniting people through music and ancient Greek and folk instruments.
This experience is perfect for musicians, world travelers, historic preservationists, and families. All are welcome.
This even will take place on Sunday, January 26 at 3 pm. $20 per person, $8 for children (12 and under) and $14 for groups of 10 or more, in the black box theater at ARTworks in Beaufort Town Center. 2127 Boundary Street 29902, www.artworksinbeaufort.org, 843-379-2787: art works, art fun, art now.