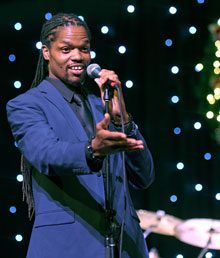 Landau Eugene Murphy, Jr. is the soul and Sinatra-singing season six winner of NBC TV's "America's Got Talent." The former car washer's Columbia Records debut album produced by Grammy winner Steve Tyrell spent six weeks at #1 on the Billboard Jazz chart. Landau's follow-up holiday CD "Christmas Made For Two" raised thousands for the Children's Home Society of West Virginia and received nationwide airplay including Sirius/XM's "Holly" channel.
And now, Landau Eugene Murphy, Jr. is heading to Beaufort. On Friday, January 11th, he'll be the featured performer at Notes: An Evening of Musical Storytelling & Casual Conversation to benefit the Boys & Girls Clubs of the Lowcountry. Now in its third season, Notes has quickly become one of Beaufort's premiere fundraising events, a magical evening of music, art, food and fellowship at Tabby Place that has raised a great deal of money for the Boys & Girls Clubs, while also raising awareness and inspiration.
"I am thrilled to have Landau Eugene Murphy, Jr. perform at our annual Notes event," says James Dismond, Area Director of Resource Development for the BGCL. "Landau's life story resonates with many of our club members. He's not only a great talent, but exemplifies how dedication and willpower can lead to success regardless of your economical background. He's an inspiration and we hope our club members see that they too can be successful and achieve greatness."
Landau's self-titled third album was recorded at the famed Capitol Records studios in Hollywood,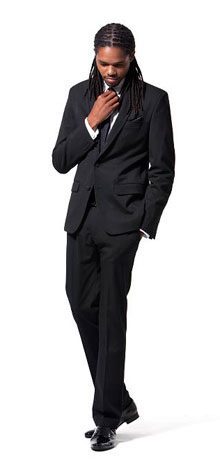 CA where Sinatra recorded some of his signature classics. He has performed dozens of sold out concerts around the world, headlining at Caesars Palace in Las Vegas, the Apollo Theater in New York, The Grove in Hollywood (for Tina Sinatra), the Fountainbleu in Miami Beach, with the Boston Pops Symphony Orchestra, at the Mercedes Benz Arena in Shanghai China, and for U.S. troops stationed across Europe. His memoir "From Washing Cars To Hollywood Star" was an Amazon #1 bestseller in the Jazz Books category, and a Readers' Favorite Award winner.
Landau has performed with living legends including Patti Labelle, George Benson, and former members of the Temptations, Platters and Drifters. He's appeared on CNN, HLN, The Today Show, Fox and Friends, Tom Joyner, Access Hollywood, Entertainment Tonight, Wendy Williams, and dozens other other top media outlets.
In the midst of all this success, Landau Eugene Murphy, Jr. has never forgotten where he came from. A native of West Virginia, he was homeless by the age of 19 and working as a car washer when "America's Got Talent" changed his life forever. Today he spends much of his time giving back, trying to make life better for people from circumstances similar to his own. He was named one of the Ten Outstanding Young Americans by the United States Jaycees, and West Virginian of the Year in his home state for his assistance in raising millions for those in need.
Landau currently serves on the Board of Directors for the Children's Home Society of West Virginia, where he worked as a volunteer for many years prior to winning "America's Got Talent." He regularly donates his time and resources to a variety of charitable causes and organizations, many in his home state of West Virginia, where he still proudly makes him home when not on tour. Groups he has supported include the Appalachian Children's Chorus, the West Virginia Music Hall of Fame, Walking Miracles, The Drug Free All Stars basketball team, March of Dimes, Diabetes Prevention, the West Virginia Affordable Housing Act, the Southern Leadership Conference, the Salvation Army, Veteran's Administration, an Armed Forces Entertainment tour of Germany for U.S. troops stationed there, the Musical Arts Guild, Shriners Hospital, React Children's Hospital, the Jewish Community Center of Pittsburgh, HospiceCare, Honor Flight, the United Way, and dozens of food banks, toy drives and senior center visits. In 2014, Landau was named one of the United States Jaycees Ten Outstanding Young Americans.
"Landau Eugene Murphy, Jr. is the complete package: talent, personality, character, class and humility, the ingredients for longevity," says Glenn Leonard, former lead singer of The Temptations. "His sound is clean, pure and rich, but don't get it twisted – he's got R&B chops as well. He's very versed in his art and that should serve him well in years to come."
Sponsorship opportunities are still available for Notes: An Evening of Musical Storytelling & Casual Conversation, happening on Friday, January 11 at Tabby Place. Contact alittlejohn@bgclowcountry.org For more information, visit www.bgclowcountry.org