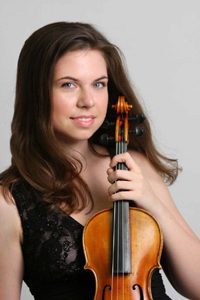 A famous quip among musicians is that performing the music of Mozart "is too easy for children and too difficult for adults." With reasonably conscientious practice most of the notes can be learned. The problem lies in their very simplicity because every performance smudge or inaccuracy stands out in bold relief. The perfection of Mozart's compositions, however, do not obscure his earthy, vibrant personality and insightful appreciation of the human condition. Although difficult to play well, his complete technical mastery and sense of easy conversation are exceptionally rewarding to experience in person.
The Sunday, March 5 , Festival Series Chamber Music Concert features Mozart, almost- Mozart, and Mozart-inspired music. Each half ends with one of his most beloved chamber music works: the first with the brooding and passionate Piano Quartet in g minor, K. 478, (a key Mozart reserved for his most turbulent works); the second with the brighter and more refined Piano Quartet in E-flat Major Quartet, K. 493. Heard together, the dark and light, yin and yang contrast between them further illuminates their character.
The program begins with Mozart's String Trio fragment, K. 562e, left unfinished in 1788. It was completed in 1975 by Austrian musicologist Franz Beyer. What a challenge to take on, completing the work of a genius! These gambles usually end badly. Herr Beyer's life-long study of Mozart, however, gave him a keen ear for the composer's style and language. About half way through, Mozart turns the composing over to Beyer, with such a seamless hand-off as to go unnoticed.
Estonian Arvo Pärt has been the world's most performed living composer for the past five years. Much of his music explores contemplation and inner peace. In Mozart-Adagio for Piano Trio (1992), Pärt reaches across the centuries to create a eulogy for a departed friend. Based on the Adagio movement of Mozart's Piano Sonata K. 280, Pärt adds dissonances that turn "pretty" music into a soul-searching lament.
Russian composer Alfred Schnittke's contribution is Moz-Art à la Haydn for violin and viola, composed in 1977. This work, based on surviving bits of Mozart's lost "Pantomime Music", K. 446, is unabashedly comical and witty, with word play and musical quotations that celebrate both Mozart and Haydn's humor and their enjoyment of a good practical joke.
To perform this music the Festival Series welcomes back frequent and beloved performers Jeewon Park (piano, "infectious exuberance" New York Times), Tessa Lark, above (violin, 2016 Avery Fisher Career Grant Winner), Dimitri Murrath (viola, "the warm and noble tone of Mr. Murrath's viola glowed fiercely…the highlight of the concert" New York Times), and cellist/host/Artistic Director Edward Arron.
Join in the joy of experiencing beautiful music played by masterful performers. Information and tickets are available on www.uscb.edu/festivalseries or 843-208-8246, Monday through Friday. The USCB Center for the Arts, located at 801 Carteret Street, opens at 4:00pm on the day of the concert, and the performance begins at 5:00pm, Sunday, March 5.