Beaufort Performing Arts is happy to presentNatalie MacMaster, the dynamic Celtic fiddler, in concert at USCB Performing Arts Center on Wednesday, March 12 at 8pm.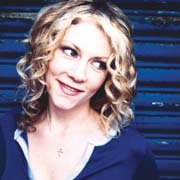 Equally at home on the concert stage or at a Folk festival, Cape Breton fiddler Natalie MacMaster is one of the most versatile and exciting young musicians on both the Folk music and Celtic music scenes.
Natalie's love performances are a testament of her incandescent musicianship and boundless energy, featuring foot-tapping rave-ups, heart rending ballads, and world-class step dancing. MacMaster is equally adept at setting the house on fire with her exceptional band as she is at hypnotizing a crowd while alone in the footlights. Natalie's fiddling fireworks on traditional and contemporary Celtic melodies; combined with the silky string sections of the symphony, generate a kind of "Traditional Fusion" delivered with ferocious energy felt by the musicians and audience alike.
It has been said that MacMaster's overall presentation is the most impactful. She is constantly moving, continuing to play as she breaks into spirited step dance at climactic moments where she offers a compete package of audio and visual delights.
The Los Angeles Times writes, "MacMaster's a ball of fire, performing jigs and reels with unstoppable, foot-tapping energy and ballads with irresistible, keening passion."
Tickets are on sale now at the USCB Performing Arts Center. Ticket prices are $40-35-30 and half price for children 12 years old and younger. Box Office: (843) 521-4145 Monday-Friday 10:00AM to 5:00PM.