In recognition of their long-standing support of both the hospital and the arts, the Beaufort Memorial Hospital Foundation has announced that Bill and Martha Harvey will serve as honorary chairmen for its 13th annual Duke Symphony Orchestra concert fundraiser, scheduled for April 9.   
Bill recently completed nine years on the BMH Foundation Board, the last two as chairman, during which time he saw first-hand the vital role of Beaufort Memorial in the health and well-being of the community, and also how very much the Foundation depends on community support.
The Duke Symphony Orchestra concert is one of the Foundation's most popular and successful fundraisers, having raised a total of over $265,000 to support BMH's Healing Arts Program at the Keyserling Cancer Center and other BMH facilities. It is also the 60-student strong Duke Symphony Orchestra's only performance off campus all year long.
Bill and Martha have played a key role in the success of the event, having hosted the Conductor's Reception at their home a few years ago and hardly missing a year in housing several of the students who volunteer their time and talent to travel all the way from Duke to perform.  
"It's always a treat to have some of the students stay with us for the weekend," says Martha.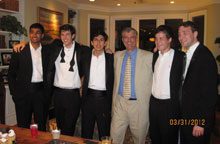 "We've gotten to know some truly remarkable young people over the years. We've even had students request to stay with us year after year because we had so much fun together. They really enjoy their time in Beaufort. "
The couple's lifelong love and study of music is more than rewarded by the concert.
"All of the students sight-read amazingly well," observes Martha. "And it is just fascinating to listen to the conductor Harry Davidson as he first explains and then executes each piece so beautifully. We never fail to learn something new and wonderful."  
The evening holds additional significance for Bill as he also remembers how special it was for him to sing Handle's Messiah with the Duke Symphony Orchestra while he was in the university's glee club as an undergraduate.
After the concert, patrons have the opportunity to join Conductor Harry Davidson and the musicians for a special Conductor's Reception at the nearby home of Mr. and Mrs. Peter Hussey.  
Make plans now: The Duke Symphony Orchestra is scheduled to perform April 9 at 7 PM at the USCB Center for the Arts. General admission tickets are $35. Patron tickets start at $75 and include premium seating and an invitation to the conductor's reception after the concert. Ticket prices will be $5 higher at the door. To purchase tickets, please visit www.bmhsc.org or call 843-522-5774.