Reed Tetzloff has distingu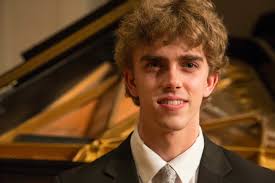 ished himself as one of the brightest young stars of a new generation of talented musicians. He enthralls audiences with his "€œmagical tone"€ and "€œebullient" virtuosity. His rhetorical and spiritual connection to the music he performs, along with a warmly charismatic stage presence, are trademarks of his ability to communicate with his audience.
Tetzloff'€™s recitals and concerto appearances have been heard across three continents, at venues such as Alice Tully Hall in New York, the Great Hall of the Moscow Conservatory, and the Queen Elisabeth Music Chapel in Brussels.
His performances were widely acclaimed in Russian media, which dubbed him "lyric hero of the Tchaikovsky Competition," and by music connoisseurs globally. He has won prizes at major international competitions, including the Beijing International Music Festival and Academy, the Cincinnati World Piano Competition, and the Cleveland International Piano Competition, as well as the Center for Musical Excellence'€™s (CME) International Performing Arts Grant. His debut CD, "€œSounds of Transcendence,"€ with music of Franck, Scriabin, and Griffes, was released in 2017. Reed Tetzloff earned his Bachelor'€™s and Master'€™s degrees at Mannes College of Music, The New School, under the renowned tutelage of Pavlina Dokovska.
Reed Tetzloff will join the Beaufort Symphony Orchestra for this season'€™s opening concert Beloved Beethoven, featuring Piano Concerto No. 4 and Symphony No. 7.
Performances will be Thursday, October 12 at 7:30 pm and Sunday October 15 at 4 pm. Tickets are $40/adult and $15/student. They may be purchased at www.beaufortorchestra.com or by calling 800-595-4849. The concert will be held at Sea Island Presbyterian Church, 81 Lady's Island Drive, Beaufort.