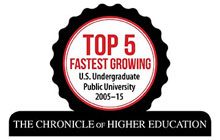 The Chronicle of Higher Education has recognized the University of South Carolina Beaufort as the fifth fastest growing public undergraduate university in the United States over the decade from 2005 to 2015.
As the leading national publication in the university sector, the Chronicle of Higher Education measured the increase in number of students enrolled for the decade for which national data is available. In 2005, USCB enrolled a total of 1,319 students. That number increased by just over fifty percent to an enrollment of 1,980 in 2015. As of Fall 2017, USCB's enrollment exceeds 2,000 students.
Other universities ranked in the top 5 (beginning with the first) include U. of Hawaii-West Oahu, Nevada State College, Purdue U. North Central and Colorado Mesa University. No other university in South Carolina ranked in the top 10.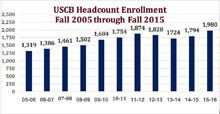 "USCB has long served as a higher education leader in the Lowcountry, and this recognition is well deserved," said Dr. Tim Pearce, chair of the Beaufort Jasper Higher Education Commission. "The growth of the university contributes to the economic development of our region by attracting industry, faculty, staff and students to our community. This key indicator of success for development ensures our prosperity now and for the future."
USCB celebrated the milestone of reaching the enrollment goal of more than 2,000 students in the fall of 2016. As a regional public baccalaureate university, USCB builds on regional strengths and meet regional needs – €"and to prepare students to contribute as more highly skilled professionals and more thoughtful, reflective citizens locally and across the globe.
Dr. Al Panu, USCB Chancellor, reflected on the local support for USCB. "This growth in enrollment is the result of the visionary local leadership who founded USCB as a baccalaureate degree granting university and invested in its growth over the past decade.  USCB is demonstrating an exceptional return on the investment of our region."