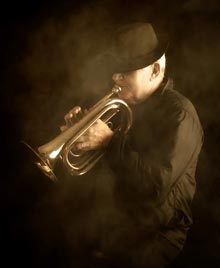 Masteller and Varner celebrate jazz – and The Ladies of Jazz – at the USCB Center for the Arts.

By Margaret Evans, Editor
One thing I love about the Lowcountry is that it's sophisticated enough to attract fascinating, accomplished people from all over . . . and "small town" enough that you actually get to meet most of them at some point. I've just sat down for breakfast at Blackstone's with a man who's performed for three American presidents – Hilton Head jazz legend Bob Masteller.
We're here at the invitation of my friend Vic Varner, no musical slouch himself. (In fact, Masteller calls Varner "the face of jazz in Beaufort.") We've come to discuss their upcoming concert at the USCB Center for the Arts, a performance they hope will be the first of many. Masteller and his All-Star Quintet will headline "The Ladies of Jazz," featuring vocalist Gina Rene, who'll sing Billie
Holiday, Ella Fitzgerald, Lena Horne, and more. Vic Varner and Friends will open, showcasing the bossa nova stylings of Antonio Carlos Jobim. The concert, to benefit Masteller's Junior Jazz Foundation, is sponsored by his famed club The Jazz Corner, named one of the top 150 jazz rooms in the world by Downbeat Magazine.
  "Bob won't want to toot his own horn," says Vic Varner, "but that place is a phenomenon. There's nothing like it in the southeast. Nothing in Atlanta. Nothing in Charlotte. It's seven nights a week, packed every night, with live jazz. Where can you get that? You've got to go to New York or San Francisco or New Orleans. Or here. It's right here in Beaufort County. We're sitting on top of it."
  Bob Masteller's been on Hilton Head since 1972, when he came to work for Charles Frasier at Sea Pines. He started in HR, but ended up running the company for a while. "Because of Charles' expectations and demands, I really learned the lay of the land," he tells me. "I learned about the seasons; who's here when, etc. We tailored our whole marketing approach at the Jazz Corner to what I learned at Sea Pines about the seasons on Hilton Head."
  Spend any time at all with Masteller, and you'll recognize a man who knows he's living the dream and can't quite believe his luck. His voice is a deep, cheerful boom; his eyes tell stories. "Merry" is the word that comes to mind as he describes the childhood that set him on his long, fateful path to The Jazz Corner.
  "I had this wonderful life," he marvels. "When I was about six, I realized my father – a jazz violinist – was a great musician and even a better person. He was already in the twilight of his career by then. Born in 1900, he'd had his own big band in 1919. And that was the heart of the Jazz Age, you know. The heyday. Dance halls, roaring twenties, all that . . . "
  Then 1929 happened, changing the course of American history . . . and the life of the Masteller family. "Before the Depression, my dad was on his way to the stars. But now things were different. He had to get a real job. He became an administrator for the railroad. Was one of the first Morse Code guys."
  Masteller came along in 1938, the youngest of five, and doesn't remember much about the war. But he has vivid memories of a charmed post-war childhood in upstate New York. "It was this magic time for me, from about 1948 to 1956. We lived in a small town in the Hudson Valley. It was beautiful. Quaint. Everybody's got a porch. Everybody's playing baseball. It's the American Dream. Everybody in town knew my parents, and they were loved. The thing I noticed around age 8 was that everybody came to our house. People of all ages. And they all wanted to talk – not just to us kids . . . but to my parents. They'd sit there and talk and laugh, and they all seemed so comfortable . . . like they were at home. Sometimes my dad would start a little jam session; there was always music. What a life! I had it made. Somebody was always there guiding me."
  "As I grew up, I always treasured that special feeling about people coming into our house," he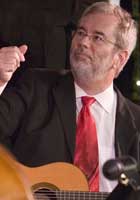 continues. "So when I got the opportunity to open The Jazz Corner, I wanted to duplicate that culture. Vic will tell you – that's the only thing I'll blow my horn about. When you walk into that club, you immediately feel like you're home."
  "You do," says Vic Varner. "It's a cozy place, like your own living room. And it's a real listening room, too, which is a rare thing. The food is great, but it's a listening room. There's a stage. There's sound. There's lights. The audience is encouraged to keep the conversation to a whisper while people are performing. That's unheard of around here."
  Varner would know. A retired high school music teacher and choral director, he performs "around here" regularly with various musical ensembles. But jazz is his baby, his one true love. He and Masteller share that passion, and it's infectious. "This is our classical music," says Varner. "It's American music. Our main art form . . . the one that's exported. The whole world loves jazz!"
  Masteller and his wife Lois started their Junior Jazz Foundation ten years ago with a mission to preserve America's music through education and performance. The Foundation helps keep jazz programs in public schools, paying for instruments and lessons and the like. One of the Foundation's most exciting developments is the Hilton Head Jazz Camp, which takes place each summer for a week. It started three years ago with only nine students, and by last year, had grown to 53. At jazz camp, young musicians (ages 11-19) learn something that's very hard to teach in a regular classroom setting – they learn to improvise.
  "Performance is the lifeblood of jazz musicians," says Masteller. "It's their raison d'etre. I wanted to start a camp for kids where they could really learn improvisation in performance. And they just love it! You never see kids meeting outside of a math class, for instance, sitting around in the parking lot saying, "What did you learn today?" But you see that at jazz camp! At the end of the week, they do a concert. We had 350 people there last year. The kids were playing Duke Ellington, and it was just terrific! The high point of the week, I think, is when they come to the club. I talk to them about the greats who've played there. The pictures are on the wall. The kids just want to lie right down on the floor and stay there."
  Jazz Camp takes place at the Hilton Head Christian Academy in July, and is a very affordable $295 for the week. The Foundation provides scholarships based on need. (www.hiltonheadjazzcamp.com)
  Passing jazz on to the next generation – not just the musicians, but the audience – is important to both Masteller and Varner. Their March 7th concert, "The Ladies of Jazz," will have an educational component; there will be commentary along with the music. And these partners in jazz are looking to the future, as well, with hopes of bringing world class jazz performers to the Center for the Arts on a semi-regular basis. Among other big names, Masteller has his sights set on jazz pianist Rossano Sportiello and jazz vocalist Deana Martin (Dean's daughter), both of whom have dazzled audiences at The Jazz Corner.
  "Our vision is to have more of these concerts," says Varner. "We want to expand this into a series that runs parallel to the USCB Chamber Music series, which is so well-supported by the community. It's a great series, and we're hoping this can be like that."
  As USCB's historic Beaufort location continues to flower into a full-fledged Arts Campus, we can't imagine a more perfect place for performing, preserving, and delighting in America's premier art form. Play on, gentlemen. Play on.
"The Lady's of Jazz" begins at 7 pm on Friday, March 7 at the USCB Center for the Arts in Beaufort. For tickets and more information, call 521-4145 or visit www.uscbcenterforthearts.com