Hilton Head Symphony Orchestra is proud to present The Jazz Connection, a dedicated group of jazz aficionados who showcase world renowned jazz artists on Hilton Head Island.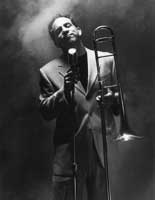 On Tuesday, September 23rd at the Hilton Head Beach and Tennis Resort's Shoreline Ballroom, jazz trombonist and vocalist Gerard Carelli will present "A Tribute to Bobby Darin". Accompanying Mr. Carelli is Andy Fusco and The Bob Alberti Trio.
When Gerard Carelli was eight years old his father came home with a trombone he bought for ten dollars. He sat Gerard and the family in the eighth row at a Count Basie concert and life was never to be the same. "I remember being blown back in my chair by the sheer impact of 16 musicians twenty feet away playing as one." When he was nine, he decided to learn an instrument at school, but which one? His practical Italian father solved the dilemma: "We already have a trombone, that's what you'll play." And, play he did!
Today, Gerard is performing all over the world singing and playing his beloved trombone. Among his many gigs was a smashing seven-week engagement at Michael's Pub in New York performing the music of Bobby Darin. He has, in fact, been described as "Bobby Darin with a trombone." His class, versatility of style and easy way of making a song his own is evident in the many credits which have earned him the respect and following of his peers and audiences alike.
Andy Fusco on alto saxophone was the lead alto player on the Buddy Rich band from 1978 to 1983. He has toured with many artists including Gerry Mulligan, Mel Lewis, Frank Sinatra and John Pizzarelli. Fusco is also an educator and clinician and currently directs the jazz program at Kean University in New Jersey.
Joining the quintet is Hilton Head's jazz ambassador Bob Alberti, who as a conductor, composer, arranger and pianist has performed with all the greats in the television and nightclub circuit all over the world. Bob's desire to keep jazz alive has earned him the respect of his peers and as a result has been in demand playing and recording all over the southeast.
Drummer, Steve Primatic has a PhD in music education and currently is the head of the percussion department at Armstrong-Atlantic University in Savannah. He's played with many luminaries of the jazz world including Harry Allen, Scott Hamilton, and Warren Vache to mention only a few. Steve regularly performs with the Hilton Head Symphony Orchestra as principle percussionist maintaining an active career performing in both classical and jazz styles.
Bassist Frank Duvall, on the faculty of the College of Charleston, has performed with jazz giants Marian McPartland, Dizzy Gillespie, and Buddy DeFranco, among others. He currently leads the Frank Duvall Jazz Trio and performs throughout the southeast on a regular basis.
Just The Facts:
A Tribute to Bobby Darin
Presented by the HHSO
Jazz Connection
Tuesday, September 23rd at the Hilton Head Beach and Tennis Resort's Shoreline Ballroom
Doors open at 6:30 p.m., Concert begins at 8:00 p.m.
Cabaret seating is $45, Theatre-Style seating is $30, Reserved Tables of 10 for $450.
A cash bar and buffet will
be available.
For further information call 842-2055. Tickets are available by calling our office or on our website at www.hhso.org.