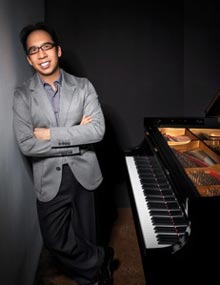 Were you there when Joel Fan played Fripp? This will be one of the most frequently asked questions where music-lovers gather, as Fripp Island Friends of Music continues a long tradition of bringing accomplished Steinway artists to the Lowcountry. Joel
Fan has been hailed by critics as having "uncanny technical skill" (Washington Post), combined with a "probing intellect and vivid imagination" and a playing style that is "the picture of textural clarity" (New York Times).
         Pianist Joel Fan is one of the most dynamic and accomplished musicians performing today. He is consistently acclaimed for his recitals, recordings, and appearances with orchestras throughout the world. His concerts attract a wide range of audiences, as he has eagerly embraced traditional piano literature as well as an eclectic repertoire, including new music commissioned especially for him, "world music," and his own transcriptions. Mr. Fan's engaging personality, technical assurance, lyricism, and sheer musicality win over audiences wherever he performs.
         Collaborating with cellist Yo-Yo Ma as a member of the Silk Road Ensemble, Joel has appeared at famous venues such as Carnegie Hall, the Kennedy Center in Washington D.C., the Concertgebouw in Amsterdam and on such popular US nationally televised programs as Good Morning America and Late Night with David Letterman. He has also shared the stage with Mr. Ma for performances of Beethoven's Triple Concerto with the New York Philharmonic under the baton of David Zinman. Mr. Fan has appeared as soloist with numerous world-acclaimed orchestras, including the New York Philharmonic, Royal Stockholm Philharmonic, London Sinfonietta, Singapore Symphony, New Symphony Orchestra of Bulgaria, and Odessa Philharmonic, among a long, distinguished list.
         Joel graduated from Harvard College and received a Master's degree from Peabody Conservatory as a student of legendary pianist Leon Fleisher. He has worked with prominent conductors such as Alan Gilbert, Zubin Mehta, David Alan Miller, Gustav Meier and David Robertson, building and perfecting an ever-expanding repertoire of piano music and all the while attracting the rapt attention of devoted followers. Joel's audience is so enthusiastic his first solo album, World Keys debuted Number 3 on the Billboard Classical Chart!    
         Considered a "champion of new music" (Boston Globe), Mr. Fan commissioned, performed and recorded the world premiere of Leon Kirchner's Sonata No. 3, "The Forbidden."
         His two impressive solo albums establish Joel as a seeker of unusual works and he has masterfully intermingled them with classic standards of the past. World Keys features five world premiere recordings, ten composers from ten different countries, including Peteris Vasks, Dia Succari, Qigang Chen, Adnan Saygun, as well as Prokofiev, Liszt and Schumann; West of The Sun displays his "spice and pizzazz …" with readings of Barber, Bolcom (including the world premier recording of the Grammy award-winning composer's "Nine New Bagatelles"), Ginastera, Gottschalk, Piazzolla and Villa-Lobos and two little-known works by Amy Beach and the African-American composer Margaret Bonds.
         The Fripp venue is a perfect setting for this performance. The catered event that follows each concert gives all who attend a unique opportunity to spend time with Joel Fan, to seek his autographs or share an experience or observation.
         After Mr. Fan's performance, after the enjoyable reception and friendly discussions with other music enthusiasts, later, when you are asked, "Were you there?," you'll smile, show your autographed CD (or cocktail napkin) and reply, "Yes, I was there!"
Joel Fan will perform on Sunday, November 23rd at 5 pm at the Fripp Island Community Center, 205 Tarpon Blvd, Fripp Island.Tickets at the door: Adults $25 per person/$10 students. All attendees get a free pass at the Fripp Gate and are invited to join the artists at a complimentary catered reception following the performance. http://www.islc.net/friendsofmusic/
For more information, call 843-838-6655.