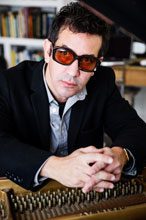 At age 45, A.J. Croce has already lived 15 years longer than his legendary father Jim, who died tragically in a plane crash before his son's second birthday. Though inextricably linked to that legacy, A.J.'s musical career has taken a path of its own.
Famed New Orleans musician Allen Toussaint has said of him, "In such a crowded music universe it is a pleasure to witness triple uniqueness: pianist, songwriter, singer – and at such a level. And who does he sound like? The answer is: himself. A.J. Croce." According to Willie Nelson, "A.J. Croce has wisdom beyond his years. With his music, he represents his generation with a profound sense of honesty in his lyrics and quality in his delivery. The future of entertainment is safe in his hands!"
And now Beaufort music lovers have a chance to get up close and personal with A.J. Croce when he brings his Two Generations of American Music concert to the USCB Center for the Arts, where he'll perform favorite tunes by his father, songs that influenced them both, and music of his own.
I recently spoke with A.J. Croce via email . . .
ME: Throughout your music career, have you felt pressure to differentiate yourself from your father… or to somehow live up to his iconic stature? How daunting is the shadow of Jim Croce?
AJC: The differentiation was natural. With all the similar influences we both had, I practiced
more complicated music not to compete but to challenge myself. Piano was my first influence, and from there I moved to stringed instruments. It's possible if he had lived longer he would have done the same. 
ME: In what ways would you say you're similar to your father as a musician? Where do your musical styles, sounds, and influences clearly part ways?
AJC: Both my father and I were inspired by all varieties of the roots of American music. From 20's blues and jazz, to 40's and 50's country and then 50's and 60's Rock & Roll. The difference comes in a few ways, though two of the most obvious are that I'm a pianist to the core and he was a guitarist. The second is that I am a soloist in addition to accompanying myself and others, and he was more of an accompanist and hired soloists. As a soloist I listened to the most challenging music of all genres from Classical, Jazz, Blues, Country, Rock & Roll, Soul, Funk…
ME: You're known as an accomplished multi-instrumentalist. Do you have a favorite instrument, and if so… why do you love it?
AJC: I mentioned that piano is my first instrument and I think it's remained so because I can perform multiple parts of music simultaneously. A piano is like an orchestra in one instrument.
ME: I recently learned that your dad wrote his beautiful ballad "Time in a Bottle" about you, when you were a baby. I'd always assumed it was written for a woman, and learning it was written by a father about his child gave the song new resonance for me. How do you feel when you perform this song… assuming you do?
AJC: It is definitely the most emotional song of his that I perform in the Two Generation concert. 
ME: What's your all-time favorite Jim Croce song?
AJC: "Box #10" and "Lovers Cross" stand out for their stories, but I love playing "Operator" and "These Dreams" on guitar since they have so many chords and require 2 guitarists to be in perfect synch. 
ME: Who are you listening to these days?
AJC: Otis Redding, Solomon Burke, Ray Charles, Blind Blake, The Stones . . . all kinds of world music. Sister Rosetta Tharpe, Nina Simone, Mose Allison. Also all kinds of jazz. On planes (I fly a lot) I like the music to be relevant to the story I'm reading. Moroccan for Paul Bowles . . . Omar Khorshid for the Alexandria Quartet . . . Bartok or Shastakovich for Chekhov . . .
A.J. Croce will perform Two Generations of American Music on March 3rd at 7:30 pm at USCB Center for the Arts in Beaufort. Tickets are $35 for adults and $15 for students/children. Visit www.uscbcenterforthearts.com