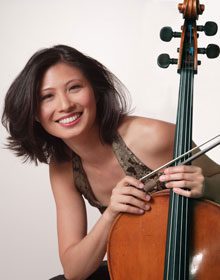 It's becoming harder for us to keep our Lowcountry treasures to ourselves. One of those treasures is the diverse, dynamic performing arts climate that has developed here, along with our varied communities of discriminating residents who seek out a range of high-quality live entertainment close to home. Fripp Friends Of Music has been a force behind that vibrant Lowcountry entertainment atmosphere, making Fripp an "Island of Music," fall, winter and spring, for over three decades! Already into their 32
nd
season of bringing world-class performers to the island, the November concert for Beaufort's favorite beach resort features internationally-acclaimed, award-winning cellist Sophie Shao.
One of the reasons why Ms. Shao's immense talent will be showcased in our remote Beaufort Barrier Islands this mid-November is that the secret of the Lowcountry's sylvan settings and welcoming, discerning, appreciative audiences is out. It's known around the world—and it's why sensational performers such as Ms. Shao keep coming here.
Ms. Shao isn't just "award-winning" or "world-class," although she's performed to accolades throughout the United States, Europe and Asia. No. She is a musical prodigy, who began playing the cello in her native Houston at six and whom critics have placed practically in a category all her own. After all, she had a concerto written for her, and then performed its world premier!
Ms. Shao won the prestigious Avery Fisher Career Grant when she was only 19 and subsequently garnered top honors at Rostropovich and Tchaikovsky competitions. The New York Times applauded her "…eloquent, powerful…" interpretations of repertoire, ranging from Bach and Beethoven to the contemporary American composer, George Crumb.
With Leon Botstein conducting the American Symphony Orchestra, she played the world premiere performances of "Mythic Gardens," a concerto written for her by Hollywood composerHoward Shore and Richard Wilson's "Concerto for Cello and Mezzo-Soprano."
She has appeared as soloist with Maestro Keith Lockhart and the BBC Concert Orchestra in performances of the Elgar and Haydn C major concertos and performed Saint-Saëns' "La Muse et Le Poete" with violinist Miranda Cuckson at the Bard Music Festival. She presented the six Bach Cello Suites in an unforgettable afternoon at Union College in Schenectady, NY, and at Lincoln Center in New York City, where she is an Artist of the Center's Chamber Music Society—there is already a demand for her soon-to-be-released double-CD set of the Bach Suites.
The Washington Post enthusiastically reported on a performance of Romantic Era music Ms. Shao performed at Washington DC's renowned Phillips Collection private art museum, accompanied by "wondrous" Lithuanian pianist Ieva Jokubaviciute. The reviewer found the interpretation of Schumann, Brahms and Beethoven "deeply satisfying," and wrote, "Opening with Schumann's Adagio and Allegro in A-flat, Op. 70, Shao threw her head back and leapt in — hair flying and nostrils flaring in fine romantic abandon."
While still in elementary school, Ms. Shao was a student of Shirley Trepel, former Houston Symphony principal cellist. At thirteen she enrolled at the Curtis Institute of Music in Philadelphia, studying cello with David Soyer. When she graduated from Curtis, she continued her cello studies with Aldo Parisot at Yale University, earning a B.A. at Yale College and a Master of Music from Yale as a Paul and Daisy Soros Fellow.
She is on the faculty of Vassar College and the Bard Conservatory of Music. She plays an exquisite Honore Derazey cello from 1855, which was once Pablo Casals' personal instrument.
Ms. Sophie Shao takes the Fripp Friends of Music stage at 5 pm, November 15th, Fripp Island Community Centre, 205 Tarpon Boulevard. Be prepared for a thoroughly entertaining Sunday evening! Tickets at the door, Adults $25/$10 Students. All attendees get a free pass at the Fripp gate and are invited to join Ms. Shao at a complimentary catered reception following her performance. For more information, visit http://www.islc.net/friendsofmusic/ or call (843) 838-6655.