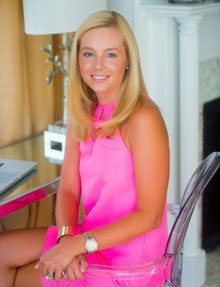 Kristy Woodson Harvey on sharing stories, loving old houses, and standing in Pat Conroy's library.
Standing in Pat Conroy's private library is not something I had ever imagined I would do. But then, suddenly, the night before a speaking engagement at USC-Beaufort, I found myself there, in Cassandra King's lovely home that she shared with her late husband, with an amazing group of women who had gathered to welcome me to town, as Southern women do.
            I would never have asked to see it, wouldn't have snooped, wouldn't have pried unless I was offered. I guess when you get right down to it, there's not too much private about a library. But somehow, being inside a writer's library feels intensely personal, as if you are gaining entrance—if only for a moment—to a part of his or her soul.
There was a silence in that room, a hush that I couldn't just hear with my ears but could feel with my body. It was a sense of calm, a feeling of peace.
            I'm a millennial, technically, though with all the flack my generation gets, maybe that's not something to admit with pride. Nevertheless, it's important. Because I'm a phone picture taker, an Instagrammer, a blogger. My hopes and dreams are readily available via my Pinterest board, and I remember my friends' birthdays because Facebook tells me to. The innerworkings of my private life have never been particularly private because most of my life is broadcast from my iPhone.
            Only, standing there that day, I didn't broadcast. I didn't so much as snap a photo. In the moment, I didn't, because more than I'm a millennial, I am a Southern girl with Southern girl manners. You don't take pictures in church.
And you don't take pictures in Pat Conroy's library.
Surrounded by what you feel like, in the moment, are volumes and personal belongings that are downright holy; it's just not appropriate to pull out your iPhone and start snapping. Maybe it wouldn't have been that wrong of me to take a picture. I don't know.
            But it didn't make any difference; not then, not now. I knew already it was a moment I would never forget. I didn't need the picture because I would always carry that feeling with me of standing where one of the greats had stood.
            I didn't touch anything, scarcely breathed, really, feeling as if I were studying an oil painting at a famous museum. I didn't want to sully it with my fingerprints, didn't want to leave anything behind or take anything with me—besides a memory, of course, one that I am quite certain I will one day share with my grandchildren.
            Maybe that moment will be a part of my legacy.
In addition to his exquisite body of work, the Pat Conroy Literary Center must certainly be a part of Pat Conroy's legacy.
Formed to "cultivate a passionate and inclusive reading and writi
ng community in honor of Pat Conroy, who dedicated his life to spreading his love for literature and writing," anyone who enters those doors knows that this center was a passion project for those who have undertaken it. And, well, passion projects are something I know all about.
I am so proud and honored to launch my fourth novel, The Secret to Southern Charm (Gallery/Simon & Schuster, April 3, 2017), in collaboration with the Pat Conroy Literary Center, to raise money and members to support this all-important cause, to further the vision of a man who made an indelible mark on Southern literature. I am even more excited to do so at the stunning Barnwell-Gough House, currently owned by Mark and Alison Guilloud. It will be an incredible night to celebrate stories—in this case, that of a new novel and an old house.
The Barnwell-Gough House, built in 1789, is an example of Adam-style architecture, which embraced local building materials—and is the perfect historical setting for the launch of The Secret to Southern Charm, whose protagonist, Ansley Murphy, is an interior designer specializing in historical preservation and restoration in her seaside town of Peachtree Bluff, Georgia. Peachtree Bluff is the first fictional town I have ever had the privilege of creating, a blend of so many of the small Southern towns I have called home, but largely based on my current home, the "other Beaufort" in North Carolina.
The Barnwell-Gough House is made of tabby—a cement mixture using oyster shells—covered with stucco, in contrast with Ansley's home and the homes she designs, which are mostly white clapboard. But their sense of history is what binds them. It is, after all, our pasts that make for the most compelling stories.
The pasts of the four generations of the Murphy family now living under one roof in The Secret to Southern Charm are something I can't wait to share with readers, the path I took to making these characters come to life one I am most excited to talk about. As the author of the award-winning blog Design Chic—and survivor of three historical renovations—I'm also thrilled to lend a f
ew of my favorite tips for preserving the past while making room for the future.
When I walk down the halls of my own historical home, I think a lot about the past. As I contemplate the addition we are beginning right now, a space for my new office and perhaps even my own library, I can't help but think about what the future might hold, not only for my family under this roof but for the families that will make it theirs one day.
My husband once said that he didn't feel like our house in Beaufort, NC was ours as much as we were caring for it for a half-century or so until it was time for the next caretakers to come along, their stamp on it, and make it their home.
I feel that way about our stories too, and, though I never had the pleasure of meeting Pat Conroy, I have stood in his library. And I have to feel like he might agree. They are never really ours, were never really meant to be ours. Because our stories, like our homes, can only be fully appreciated once they are shared.
Bestselling author/blogger Kristy Woodson Harvey will launch her fourth novel, The Secret to Southern Charm, at the historic Elizabeth Barnwell Gough House on Thursday, March 15th from 6-9 pm. Tickets are $75 and include a cocktail party catered by Debbi Covington, an author presentation, and an autographed copy of the book – well before its April publication date. Proceeds benefit the Pat Conroy Literary Center. For tickets, visit www.patconroyliterarycenter.org