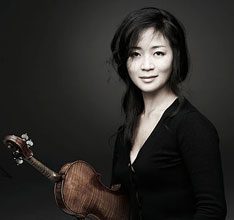 On Sunday, March 4 at 5 pm, USCB Chamber Music celebrates the brilliance of four musical wunderkind as well as the anniversary of two American originals. Composer Amy Beach's 150th birthday was on September 5, 2017; Leonard Bernstein's 100th will be on August 25, 2018. Both were prodigies and ground breakers but different in temperament and style.
Beach became a national symbol of woman's creative power and the dean of American women composers. Bernstein was an internationally celebrated celebrity maestro and Broadway composer. The two most precocious musical geniuses of western music, Wolfgang Amadeus Mozart and Felix Mendelssohn will also strut their stuff. Each of their compositions demonstrates the verve of youth coupled with the technical mastery only accorded to the precociously gifted. Bernstein was 19, Mozart 23, Beach 25, and Mendelssohn a geriatric 36 when the works on this concert were written.  
         All four composers were dually gifted; they were piano virtuosi as well as composers. At the age of 15, Amy Beach played her first concert with the Boston Symphony. She wrote Four Sketches for Piano, Opus 15 in 1892. The third sketch, titled Dreaming, was later arranged by the composer for cello and piano and inscribed with a quote from Victor Hugo, "You speak to me from the depths of a dream." Its caressing rhythm and floating melody conjure up images of love lost and springtime rebirth. Mozart's cheery, three-movement Sonata in B-flat Major for Violin and Piano was composed for his father and sister. The composer's effortless mastery of classical style, balance, and elegant declamation flow through the brilliant first movement, deeply felt slow movement, and acrobatic rondo. Leonard Bernstein was a Harvard student when he wrote Piano Trio in 1937. His deft handling of counterpoint belies his youth, while accessibility and enthusiasm make the trio enjoyable both in its own right and as a foretaste of things to come (the second movement's theme was re-purposed in his 1944 musical, On the Town). Occupying the second half of the program is Mendelssohn's spellbinding Piano Trio in c minor, Opus 66. It is one of the monuments of chamber music. Erudite sophist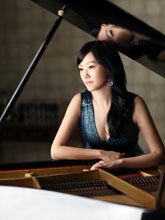 ication and superior musicality is joined in happy union with instrumental flair and virtuosity.
         The artists playing this music are also prodigies. Pianist Jeewon Park (right), a frequent and beloved guest on this series, made her debut at age 12, playing the Chopin Piano Concerto No 1. Since that time she has established an international career as recitalist, soloist with orchestra, and chamber musician. Violinist Chee-Yun (top left) had her debut performance at age 8 and proceeded to become a competition winner and regular performer with the world's foremost orchestras. Her flawless technique, dazzling tone, and compelling artistry have made her an audience favorite on five continents. Cellist, Artistic Director, and Host Edward Arron is something of a laggard in that he waited to begin playing the cello until age 7. Not to be outdone, he now has the distinction of being a brilliant, highly respected chamber music collaborator and sought after teacher.
         The January concert ended with an explosion of applause; March should be no different. Come hear timeless music gloriously played. Feel the excitement at the USCB Chamber Music concert on Sunday, March 4, 2018, 5:00 pm. A free Preconcert Conversation with Dr. Michael Johns will be presented in the concert hall from 4:00-4:30pm. Series information and tickets, as well as information about the newly launched Endowment, are available on http://www.uscb.edu/chambermusic or at 843-208-8246, Monday through Friday. The USCB Center for the Arts, located at 803 Carteret Street, opens at 3:30 pm on the day of the concert. Come and experience the joy of chamber music.