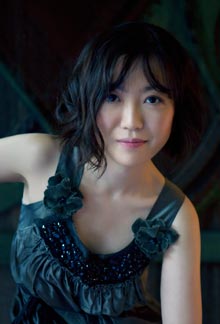 The rare harmonium, invented in the 1840's, will make a Beaufort appearance at this year's final USCB Festival Series concert. When was the last time you saw a harmonium? When was the last time you heard a harmonium? When was the last time you saw and heard a harmonium in Beaufort? When is the next likely opportunity you will have to see and hear one played by an exceptional pianist here in the Lowcountry of South Carolina? It most certainly will not be soon. So plan now to be in the audience on Sunday, April 29 at five o'clock.
Internationally acclaimed Japanese pianist Rieko Aizawa will play the harmonium and the concert grand Steinway for April's concert. Discovered at age 13 by the late Alexander Schneider on the recommendation of pianist Mitsuko Uchida, Ms. Aizawa has since established her own unique musical voice.  Schneider engaged her as soloist with his Brandenburg Ensemble at the opening concerts of Tokyo's Casals Hall; later that year, Schneider presented Ms. Aizawa in her U.S. debut concerts at the Kennedy Center and Carnegie Hall, performing Mozart's Concerto No. 12 in A Major, K. 414, with his New York String Orchestra.
Praised by the NY Times for her "impressive musicality, a crisp touch and expressive phrasing," Ms. Aizawa has performed in solo and orchestral engagements throughout the U.S., Canada and Europe, including Lincoln Center's Avery Fisher Hall, Boston's Symphony Hall and Chicago's Orchestra Hall. Highlights of recent seasons have included acclaimed performances with the New Japan Philharmonic under Seiji Ozawa, the English Chamber Orchestra under Heinz Holliger, the Festival Strings Lucerne in Switzerland under Rudolf Baumgartner, the St. Paul Chamber Orchestra under Hugh Wolff, the Curtis Institute Orchestra with Peter Oundjian, the St. Louis Symphony under David Loebel and a wonderfully received performance with the Vienna Chamber Orchestra. Ms. Aizawa also has a great interest in exploring unusual repertoire. In October 2007, the St. Paul Pioneer Press described her performance with the St. Paul Chamber Orchestra conducted by Hans Graf "the Salieri Piano Concerto in C was played so splendidly by Rieko Aizawa. Hers was a graceful reading. …. Aizawa's performance lent the work a respect it rarely receives." In the same year, she received the Washington Award.
An avid chamber musician, Ms. Aizawa has performed as a guest with string quartets including the Guarneri Quartet, the Orion Quartet and the Shanghai Quartet, and she has participated in numerous festivals, such as the Marlboro Music Festival, U.S.A.; the Kammermusik Festival Moritzburg, Germany; and the Evian Festival, France. She has been a guest artist of Boston's, Philadelphia's and Seattle's Chamber Music Society. Ms. Aizawa is a founding member of Duo Prism with violinist Jesse Mills, which earned the 1st Prize at the Zinetti International Competition in Italy in 2006. With Mr. Mills, Ms. Aizawa became co-artistic director of the Alpenglow Chamber Music Festival in Colorado in 2010.
March 2005 marked the release of Ms. Aizawa's first solo recording on the Japanese label Altus Music – a tour-de-force CD of Shostakovich's and Scriabin's "24 Preludes." Her second solo CD, of Faure's and Messiaen's preludes, came out in 2011.
Ms. Aizawa received her Masters Degree from the Juilliard School, where she worked with Peter Serkin. She is also a graduate of the Curtis Institute of Music in Philadelphia, where she was awarded the prestigious Rachmaninoff Prize and studied with Seymour Lipkin, Peter Serkin, and Mieczyslaw Horszowski as his last pupil.
Violinist Steven Copes leads a diverse and enthusiastic musical life as soloist, chamber musician and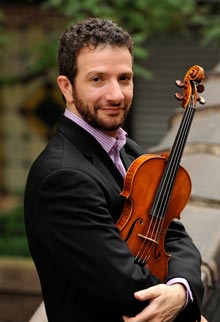 orchestral leader. He joined the SPCO as Concertmaster in 1998, and since then has led the orchestra from the chair in several highly acclaimed, eclectic programs. He also appears frequently as soloist with the SPCO, performing concerti by Bach, Berg, Brahms, Hindemith, Kirchner, Lutoslawski, Mozart, Piazzolla, Prokofiev, Schnittke and Weill. In addition, he has performed as soloist with the Philharmonia Orchestra of London, the Colorado Symphony and the New Symphony Orchestra in Sofia, Bulgaria. A zealous advocate of the music of today, he gave the world premiere of George Tsontakis' Grammy-nominated Violin Concerto No. 2 (2003), which won the 2005 Grawemeyer award and has been recorded for KOCH Records.
An avid chamber musician, Copes has performed at festivals and concert series such as Aspen, Boston Chamber Music Society, Bridgehampton, Caramoor, Cartagena, Cello Plus, Chamber Music Northwest, Charlottesville, Colorado College, El Paso Pro Musica, Four Seasons, Institute for Advanced Study at Princeton, La Jolla Summerfest, Mainly Mozart, Marlboro, Mozaic, Norfolk, Piccolo Spoleto, Seattle Chamber Music Society, Skaneateles, Styriarte, Sweetwater Music Weekend, and at other festivals across the globe. He co-founded the Alpenglow Chamber Music Festival as well as Accordo, a new chamber group based in the Twin Cities.
As guest Concertmaster, Copes has toured extensively throughout Europe and Asia with the Chamber Orchestra of Europe and the Mahler Chamber Orchestra and performed in the same capacity with the Baltimore Symphony, London Philharmonic, Pittsburgh Symphony, Royal Concertgebouw Orchestra, and the San Francisco Symphony. A lover of modern instruments and bows, he regularly performs on a violin made by Samuel Zygmuntowicz, and bows by Lee Guthrie and Michael Yeats.
Currently in the midst of a worldwide tour of the complete Paganini Caprices, violinist Yehonatan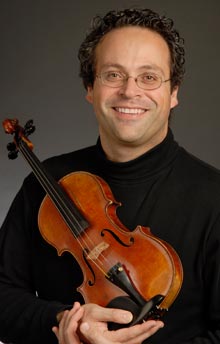 Berick's BluRay disc of the works is due by the end of 2012. In high demand internationally since becoming a prizewinner at the 1993 Naumburg Violin Competition, he enjoys a busy concert schedule as soloist, recitalist, chamber musician, and pedagogue, throughout North America, Europe and Israel. Solo performances include Quebec, Winnipeg, Windsor, Ann Arbor, Jerusalem and Haifa Symphonies, and the Israeli, Cincinnati, Montreal and Manitoba Chamber Orchestras, Thirteen Strings and Ensemble Appassionata.
An active chamber musician, he is a member of the Los Angeles Piano Quartet. Festival and chamber series credits include Marlboro, Ravinia, Seattle, Vancouver, Ottawa, Jerusalem, El Paso, Maui, Great Lakes, Music@Menlo , Close Encounters with Music in MA), Giverny, Festival of the Sound inCanada, Leicester, Moritzburg, Lapland, Riihimaki, Alpenglow, and Bowdoin.
He has been featured in many of the world's most important chamber music centers including London's Wigmore Hall, the Musee du Louvre, La Sala Verdi, Carnegie Hall, Metropolitan Museum, the Kennedy Center, Freer Gallery and the Phillips Collection and Toronto's Glenn Gould Studio, the St. Lawrence Centre, and Quebec City's Palais Montcalm. On CD, Berick has recorded for the Centaur, Summit, Gasparo, Acoma, music@menlo, studio XXI, JMC and Helicon labels.
He is currently Professor of Violin at the School of Music at the University of Michigan at Ann Arbor and is currently playing on a violin by Honoré Derazey Père from 1852, and on a viola by Stanley Kiernoziak from 2003.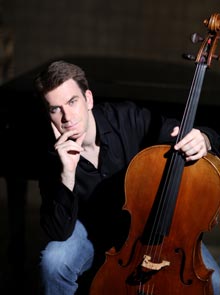 Anchoring the ensemble will be cellist, host and Artistic Director Edward Arron, who has led the Festival Series for the past three seasons with fine and varied programming and impassioned performances. A native of Cincinnati, Mr. Arron made his New York recital debut in 2000 at the Metropolitan Museum of Art. Earlier that year, he performed Vivaldi's Concerto for Two Cellos with Yo-Yo Ma and the Orchestra of St. Luke's at the Opening Night Gala of the Caramoor International Festival. Since that time, Mr. Arron has appeared in recital, as a soloist with orchestra, and as a chamber musician throughout the United States, Europe and Asia. He recently joined Andrew Armstrong and Jennifer Frautschi on stage with the Orchestra of St. Luke's, Peter Oundjian conducting, to perform Beethoven's Triple Concerto.
For more complete bios of the artists and for a complete program, please go to http://www.uscb.edu/festivalseries.
For advance tickets, call Staci Breton at 843-208-8246, Monday – Friday 8:30 – 4:30. Tickets are also available at the door. The concert begins at 5 on Sunday, April 29 at the USCB Center for the Arts on Carteret Street.